With real estate prices in Vancouver at all-time highs, many investors have started to look for new investment opportunities that can provide better returns at lower entry prices.
Cryptocurrencies and block chain projects have also filled the headlines but many investors are left wondering about their legitimacy and long term value.
Vancouver has always been an city for investors and over the decades, Vancouverites have made fortunes through the stock markets, particularly when the mining markets have been good.
Over the past 2 years, mining companies have made impressive gains on the stock markets, fueled first by gold and later, metals used in our daily technologies, such as lithium and cobalt. With China increasing its infrastructure spending, the rise of electric cars, and ever growing demand for new technologies, many experts, including Canadian banks and institutional investors, are betting that metals like copper, zinc, lithium, precious metals will be making major gains in 2018.
Chinese investors should begin to learn the time tested money making stock strategies used by ultra wealthy Canadian investors from Yasmin Gordon's speech at the GCFF Vancouver Conference 2018.
Sr. Investment Advisor
FINRA Registered Representative
Canaccord Genuity Wealth Management 
Yasmin is a Senior Investment Advisor (FINRA Registered Representative) with over 16 years of experience in providing financial advisory services to institutional, corporate and high net worth families.  She blends a hybrid business of merchant banking focused within the Precious Metals/Natural Resources/Technology/Cannabis  Sector alongside investment counsel.  On the investment banking side, Yasmin is responsible for origination, analysis, structuring and the execution of investments. On the investment advisory side, Yasmin is macro at heart and views a solid understanding of global macro-economics is paramount to the balancing of investment portfolios.   Her macro focus led her to advise clients to hold precious metals when gold was trading at $350 p/oz.  Yasmin has been instrumental in raising over $500M for public and private companies globally.  She has been recognized as owing one of the top 20 investment advisory practices in Canada with Canaccord Genuity, most notably during years of extreme market volatility.  Yasmin and her team can be contacted for: financing opportunities, trading expertise particularly with mining equities, prime brokerage accounts and custodial services.
Topics include: 
Equities vs. Real Estate: Is your Portfolio Protected from a Real Estate Crash?

Is Vancouver's real estate market unsustainable?

Mortgage Stress Tests, China's Capital Controls, and Increasing Mortgage Rates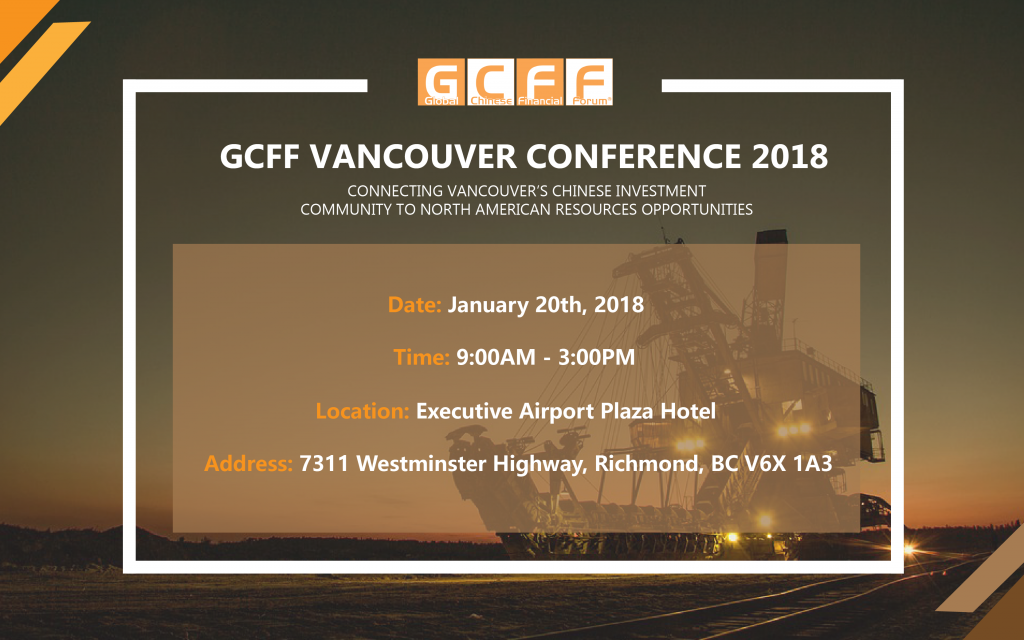 The GCFF Vancouver Conference 2018 will be focused on the upward trending resources sectors. Investors will hear from industry experts and promising companies about the newest opportunities in the Mining and Energy sectors.  Attendees will be able to:
Gain valuable insights about the latest developments and investment opportunities in the Mining and Energy sectors.
Network with company executives presenting at the conference and other like-minded individual investors and associations.
Access bilingual (English and Chinese) support throughout the conference including presentations and company fact sheets.
The conference is also featuring some undervalued opportunities in the recovering resource sector: Alopex Gold Inc. (TSXV: AEX), Aston Bay Holdings Ltd. (TSXV: BAY), Comstock Mining, Inc. (NYSE American: LODE), Fireweed Zinc Ltd. (TSXV: FWZ), Frontier Lithium Inc. (TSXV: FL), Globex Mining Enterprises Inc. (TSX: GMX), Group Eleven Resources (TSXV: ZNG), LSC Lithium Corp. (TSXV: LSC), Plateau Uranium Inc. (TSXV: PLU), Lucara Diamond Corp. (TSX: LUC), Regulus Resources (TSXV: REG).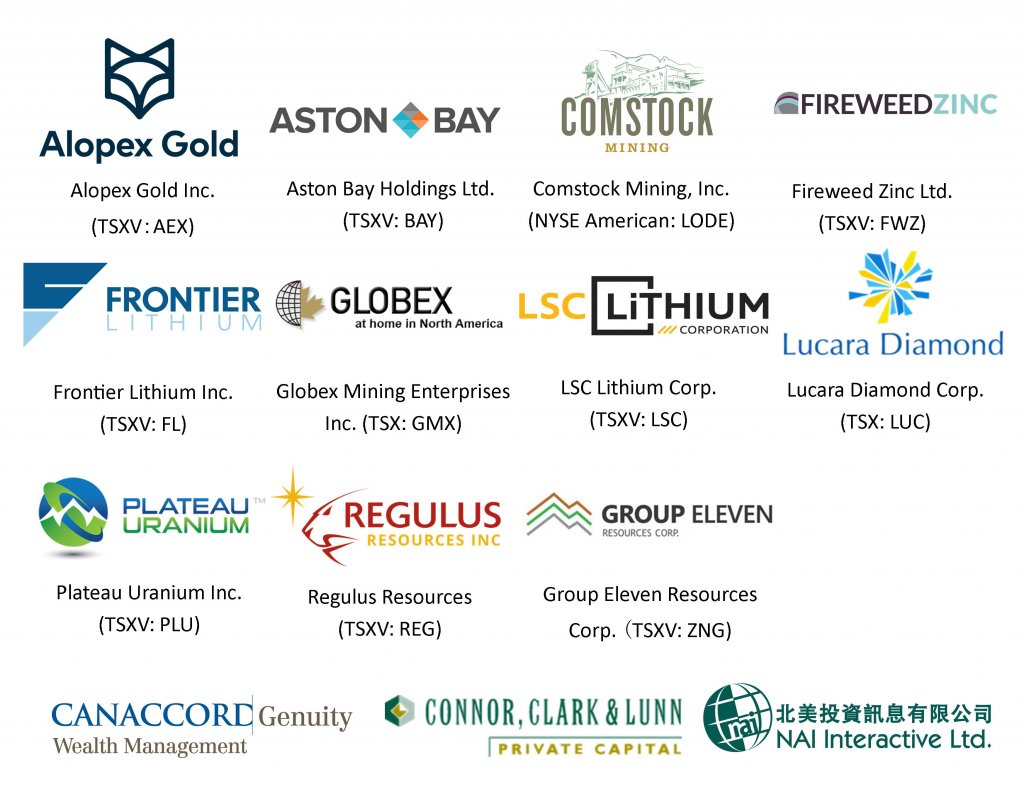 For more information about the conference, including our agenda, please visit the official website www.gcff.ca/Vancouver/Jan2018.html or call us at 604.488.8878
Related Articles:
Lucara Diamond Corp., the Canadian Diamond Mining Company that Recovered the 1,109 Carat Diamond will Attend the GCFF Vancouver Conference 2018
Seeking Investment Opportunities in the Remarkable Copper Market? GCFF Vancouver Conference 2018 Presents Aston Bay Holdings Ltd.
GCFF – The Premier Bilingual (Chinese & English) Investment Conference in Vancouver
What Metals should Investors be Paying Attention to in 2018? Learn More in Vancouver on January 20th, 2018
NAI500 Investment Destination Series – Learn about Investment in Vancouver Part 4: Mining Sector