The electrification of the world has been a huge factor in the increased demand for copper.  Whether it is the shift to solar and wind energy energy or the increased production of electric vehicles, copper is an essential part in the production and transfer of energy. In this week's NAI500 interview, we will go in for a detailed look at a world class copper project that is also the oldest copper porphyry in Africa. We have the President & CEO of Deep-South Resources Inc. (TSXV:DSM), Pierre Léveillé, to highlight the company's flagship Haib Copper Project in Namibia and give us his take on the outlook of copper.
1) What are some highlights from Deep-South's flagship Haib Copper Project in Namibia? Why the focus on Namibia in particular?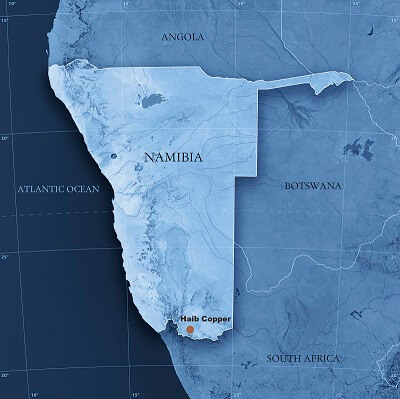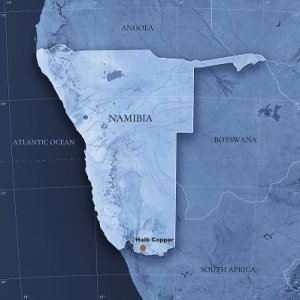 The Haib Copper project is a large copper porphyry deposit hosting  a 43-101 indicated resource of 457 million tonnes @ 0.31% Cu (3.12 billion pounds of copper) and an inferred resource  of 342 million tonnes @ 0.29% Cu (2.19 billion pounds of copper). Our recent Preliminary Economic Assessment (PEA) shows that with the heap leach extraction technology, at a price os US $ 3.00 / lbs Cu price, the project offers an internal rate of return over 30% with a CAPEX of US $ 192 million. The Net Present value of the project stands US $ 716 million and our market capitalization is around Ca $ 15 million. So, at the moment, it is clearly undervalued. We focus on Namibia because it is a very strong country for investment in Africa. It is quiet with a very well established democracy with a strong independent justice system and a very transparent mining law. Another important reason is that Namibian investors hold about 25% of Deep-South share capital. Our Chairman is a prominent Namibian citizen.
2) What other countries is Deep-South looking to explore, and what are the main criteria's when seeking out a project?
At the moment, our main focus is Namibia and our second priority is Liberia. Our main criteria's are the country, the size of the deposit or potential discovery and the geographical situation. Namibia and Liberia are good countries. Haib is a very large deposit near all the infrastructure we need and St-John in Liberia shows a large potential and is directly adjacent to a large gold mine and sits on the same greenstone belt than the adjacent mine.
3) Earlier this year, Deep-South disclosed the results of a PEA on the Haib Copper project and acquired 90% of the St John property in Liberia. What other upcoming milestones or catalysts can investors look forward to in the near future?
We are planning to start metallurgical test works on the Haib project in order to demonstrate on an industrial scale that heap leach is efficient on the ore at Haib on a large scale and to define better the economic parameters. When those tests will be completed, we plan 15,000 meters of drilling in order to increase the level of the resource to measured or probable reserve and to better delineate three higher grades areas that will serve at starter pits on an eventual production. On the St-John project, we plan some soil sampling and geophysical survey in order to define drill targets.
4) Can you talk about the company's management and exploration teams, and how they give the company a distinct advantage in Africa?
Mr. John Akwenye, our Chairman, is a well know Namibian retired lawyer who sits on the Board of Areva Namibia (subsidiary of the French uranium and energy giant Areva) and Rosh Pina (a zinc mine in the south of Namibia). Mr. Nepela, also a Namibian has been with the Ministry of Mines and was several years the Personal Assistant to the Minister of Mines. I have spent the last 25 years negotiating, acquiring financing and managing exploration projects in the southern part of Africa. I have done deals and financing for about US $ 100 million. Vivian Stuart-Williams is a South African geologist with 45 years of experience mainly in Africa and has been involved with the Haib project since over 20 years. Clifford Fitzhenry is a South African geologist with 15 years of experience mainly in Africa. We recently appointed Mr. Jean Luc Roy has Director. He has 25 years of experience as General Managers of mines in Africa for companies such as First Quantum and Centamin. We certainly carry a wealth of competence and experience.

5) How well is the copper market doing now that mining is coming back? How much has the increased demand for batteries affected the market?
The copper market is going very well and we expect that it will go better in the coming years. The main reason is that there is a shortage of copper just starting and there are not enough new mines under construction to balance the supply shortage. Moreover, there are not enough new discoveries that enable to forecast a return to a balanced market. The demand for electric vehicles is certainly an important factor as these vehicles need 4 times more copper than in gasoline vehicles. One has also to consider the largest demand for electric vehicles in all the transportation, such as trucks buses trains and more. Also, the most interesting part about copper is that it is the best electrical conductor for electricity for over 75 years and this will not change soon.
6) With the increased popularity of electric vehicles, will Deep-South be focusing its efforts more on battery metals, precious metals, or both?
Deep-South is focusing its effort on copper and this will remain the case but we are looking at some opportunities for other copper projects that can come with nickel and cobalt, so, we will be more into base metals and battery metals. Apart from this, we will always keep our eyes open for gold, but this is the only commodity that we like apart from base and battery metals. The main reason is that our main expertise is copper and with the upcoming copper market, we want to keep our focus on our competence.
We'd like to thank Pierre Léveillé, President & CEO of Deep-South Resources Inc. for taking the time to do this interview. For more information about Deep-South Resources Inc., visit their NAI500 Profile.
Disclaimer: NAI is being compensated for this article. Materials contained in this article are for information purposes only and is not intended to constitute an offering of securities in any jurisdiction. Nothing on this article should be construed as an offer, solicitation or recommendation to buy or sell products or securities.