Despite the April Fools jokes about Tesla's impending bankruptcy, traditional auto makers have not shied away from joining the electric-car boom.
Established auto maker, Ford Motor, announced that it would invest $11 billion in electric vehicles by 2022. Recent statistics by Reuters show that the total amount of investments in electric vehicles the U.S. auto makers announced has reached at least $19 billion to date. Chinese automakers spent about $21 billion and German automakers invested about $52 billion, and these figures continue to grow. BMW has announced $45 billion in battery orders. Also grid storage is a huge component of the battery market, often overlooked as it is not as sexy as a tesla.
Recently, while pure electric car makers will take some time to achieve profitability, continued investment in the sector has driven significant gains in the upstream industry, generating huge returns for investors.
The exponential expansion of the electric car industry is changing the international raw materials market. As the main raw material of batteries, lithium is emerging as an upstart strategic resource in the commodity industry. As a result, the bellwether in A-shares, Ganfeng Lithium Co., Ltd. has witnessed tenfold price increase within two years (as shown in the figure below).
Stock Chart Comparison between Ganfeng Lithium and BYD AUTO from August, 2015 until now (the purple line represents the stock chart of BYD AUTO)
Redzone Resources (TSX.V:REZ) is one such company involved in exploration of lithium assets in North and South America.  The company owns significant rights, including the Fortner & Boyd lithium property in Arizona and Lara copper molybdenum property in Peru.  Will Redzone be the next company to benefit from the electric vehicle boom?
Of course, a mine's success is affected by various factors, including mineral resources, infrastructure, climate conditions, environmental protection facilities and even geopolitical situation. There are many uncertain factors in the process of translating the primary mineral resources into corporate performance, as any investor can tell you, risk usually comes hand in hand with reward.
Investing in a junior mining company is not only a science, but also an art, and it generally needs to be analyzed from three dimensions: the management team, the quality of the minerals held by the company and the commodity cycle. Driven by the new energy industry, the demand for lithium is strong, so our conversation starts from this point.  To get a better picture of this company, NAI500 interviewed Michael Murphy, the president of Redzone Resources.
Lithium is still on a rapid upward trajectory
NAI500: What are the factors that determine the price of lithium?  What are your thoughts about the future of the emerging battery and lithium market?
Michael Murphy: The world is rapidly moving to the electrification of energy, whether it be through electric cars, grid storage and other new technologies.  SQM a leading lithium producer estimates that $10-12 billion of investment is needed to meet the increasing demand for lithium. To put that into context there is currently about 80,000 tons of lithium produced per year that production needs to go to 500,000-600,000 by 2025 to meet this increase in demand.  This increase in demand is certain to lead to rising prices for lithium.
NAI500: How do you see China's growing demand affecting the lithium markets and exploration industry?
Michael Murphy: China has a massive influence.  They are the biggest makers of lithium batteries and they are the leading the world in the EV market.
In fact, we have seen that over the past two years, although the price of lithium has skyrocketed, its price growth still has solid demand support from the perspective of the growth in sales of electric vehicles in the same period (photo). At present, the market share of electric vehicles is only 1%. But the expected growth rate is as high as 50%. Therefore, it can be said with certainty that the global demand for lithium will continue to grow in the next decade. However, on the supply side, although lithium is theoretically spread around the world, there are not many reserves that can be economically extracted.
Price of Lithium from 2002 to 2018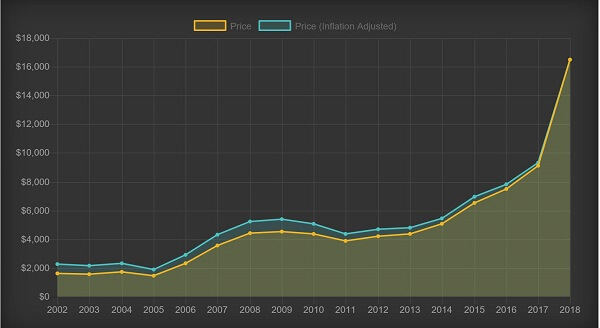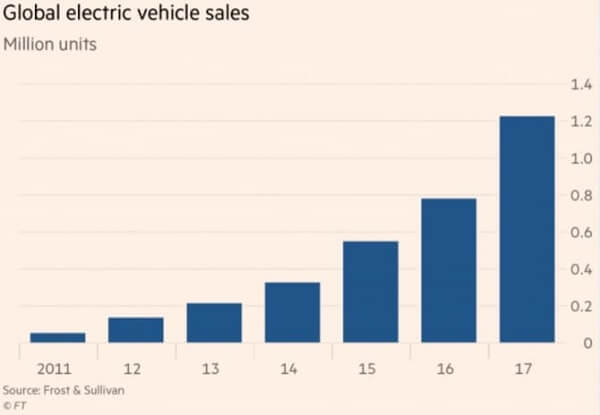 NAI500: Management is a major factor in the success of an exploration mining company.  Can you highlight your and your management's experience for our readers?
Michael Murphy:  You're right, management is key to the success of a mineral exploration company.  You need a team that knows its geology, knows its local politics, knows its capital markets and knows how to grow shareholder value.
We have assembled one of the strongest and most experienced teams in the sector, including the geologist that developed Nemaska Lithium (TSX:NMX), a company which now has $600mil market cap.  We have, in our team, experienced professionals who have worked in major global mining companies and have brought mines to production.
I have been in the mining industry about 10 years.  The last company I built was called Torex gold.  It went from about a CAD$9 million market cap to over CAD$2 billion at its peak.
Our board includes:
Cameron Bell with over 30 years' experience working as a geologist and exploration manager and worked as a Regional Exploration Manager for mining major, Vale, from 2007 to 2016.
Alan F. Matthews, a Chartered Engineer with over 30 years mining and exploration experience in the minerals industry, including projects in Scotland (Aberdeen Barytes), Papua New Guinea (Ok Tedi) and the United States (various SX-EW copper operations).
Craig Roberts, a mining engineer with over 30 years of operations, consulting and investment banking experience, including work on feasibility studies for numerous mining projects worldwide, investment banking/due diligence roles in over 200 institutional equity financings.
Gary Brown with over 20 years of in-depth experience across a broad range of finance and business disciplines.  He's currently serving as Senior Vice President and CFO of Silver Wheaton, a post he's held since 2008.
NAI500: Can you give a brief introduction of your two properties: Fortner Boyd Lithium Property in Arizona and LARA Property in Peru?
Michael Murphy: LARA is a large at surface medium grade copper property in Peru.  We need about 5000 meters of drilling to get to an inferred resource.  The logistics here are easy, low altitude, lots of water and power and 60 km from a deep water sea port. Currently on care and maintenance.
The focus of the company is the Fortner Boyd lithium exploration property in Arizona.  Lithium in hardrock comes with pigmatite dykes.  The property is literally covered in these dykes at surface. We have done extensive sampling and have found some very high grade zones, as much as 7.5% Li2O.
Fortner Boyd has began exploration in 1950. It's proved to be rich in lithium resources, but because lithium prices were low, they have not been produced on a large scale. The company's latest preliminary mapping, exploration and sampling activities were carried out on the ore reserves held, and several new outcrops and concealed pegmatite dykes were found, supplementing previous discoveries made on the original parcels. The grab sample test results of the new outcrop levees showed that the lithium oxide grade was as high as 7.5%, proving the possibility of lithium mineralization outside the Lucky Mica dam. Further sampling of the Lucky Mica dam found four high-grade samples (lithium oxide grades were 0.42%, 1.90%, 4.13%, and 4.78%, respectively).  Anything over .7% is considered economic.
NAI500: What are the exploration and drilling strategies for these properties?
Michael Murphy: LARA is on care and maintenance.  We expect to get a trenching permit in Arizona any day now. The 2018 trench exploration program is designed to trench nineteen (19) areas to a depth of 20 feet to sample the pegmatite dyke system for lithium on the areas that the 2018 chip sampling indicated as being high priority targets at the Fortner Boyd and Dove Claims areas. The program is to trench into the un-weathered pegmatite zones to evaluate the level of mineralization and the grades of the dykes. In addition to this metallurgical samples will be taken to start determining the ores amenability to processing.
We are constantly looking at complimentary assets to add to the portfolio.
NAI500: Thank you Michael, for this insightful look at Redzone Resources.
Judging from the management, minerals quality and the commodity cycle, Redzone Resources is an excellent junior mining company worth paying more attention.
Disclaimer: The Company featured in this article is a client of NAI Interactive Ltd.  This material is provided for information purposes only and does not bind NAI Interactive Ltd. in any way. It is not intended as a recommendation or an offer or solicitation for the purchase or sale of any security or financial instrument, or to enter into a transaction involving any financial instrument or trading strategy.