Aston Bay Holdings Ltd (TSXV:BAY)
Contact Information
Aston Bay Holdings Ltd
Summary
Aston Bay Holdings Ltd. is a TSX Venture Exchange listed copper and zinc exploration and development company based in Toronto, Canada. The Company is exploring for large, high-grade, sediment-hosted copper and zinc deposits in Nunavut, a mining-friendly Canadian jurisdiction.
Market Overview
Company Background
Aston Bay (TSX.V: BAY) is exploring for large, high-grade, sediment-hosted copper and zinc deposits in Nunavut, a mining-friendly Canadian jurisdiction. Aston Bay is 100% owner of the 1,024,345-acres (414,537-hectares) Aston Bay Property located on western Somerset Island, Nunavut, which neighbours Teck's word-class past-producing Polaris (Pb-Zn) Mine just 200km to the north. The Aston Bay property hosts the Storm Copper Project and the Seal Zinc Deposit, with historical drilling confirming the presence of sediment-hosted copper and zinc mineralization. The company is led by CEO Thomas Ullrich with exploration directed by Chief Geologist, Dr. David Broughton, former VP Exploration for Robert Friedland's Ivanhoe Mines and an award-winning proven mine finder.
Highlights
No debt, $1.1M cash, 80M shares outstanding with a market cap of $11M.
Tightly held share structure, with 16% insider holdings and 34% institutional holdings including Mackenzie Investment Group, JP Morgan Asset Management UK, Commodity Discovery Funds NL and Warren Irwin's Rosseau Asset Management.
Proven copper and zinc mineralization at surface suggests potential for concealed Congo-style copper and Polaris-style zinc mineralization.
David Broughton, award-winning former VP Exploration for Ivanhoe Mines, now Chief Geologist for Aston Bay.
Material and camp in place for proposed 4000m drill program commencing June, 2018.
Spring/Summer 2018: 4,000m drill program on the Aston Bay Property, led by Dr. Dave Broughton and Thomas Ullrich.
Share Structure
As of Feb. 14, 2018
Shares Outstanding
79,299,289
Warrants
5,852,452
Options
6,010,000
Fully Diluted
91,161,741
Other Information
Aston Bay Exploration Potential:
Aston Bay is 100% owner of the > 1,000,000 acre Aston Bay Property located on Somerset Island, Nunavut in Canada. The property is located on tidewater, near excellent infrastructure at Resolute Bay and in a proven world-class district, just south of and along the same structural trend the past-producing Polaris Zn-Pb Mine (21Mt @ 14% Zn). The property boasts multiple copper and zinc showings along >140km strike length and two drill-proven areas, Storm Copper and Seal Zinc: copper in massive chalcocite mineralization at surface and the shallow subsurface in multiple intercepts of >2% Cu over tens of metres (e.g. 110m @ 2.5% Cu, 56m @ 3% Cu) at Storm, and 43-101 initial resource of just over 1MT of 10.24% Zn and 46.5 g/t Ag at Seal. These are impressive accumulations of metals and evidence of a very robust mineralizing system, but critically this is just an indication of what may be concealed at depth. With sediment hosted-type deposits are targeting a mineralized layer in the rocks (such as at Polaris or in the Congo), but rocks here are dominantly flat-lying to shallowly dipping – it is very easy to conceal a large deposit if it is not exposed at the surface, and this is the exploration target at Aston Bay.
Management Profiles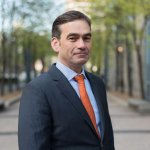 Thomas Ullrich
CEO
Mr. Ullrich has over 20 years of experience in mineral exploration and geoscience. Before joining Aston Bay in 2016, Mr. Ullrich was Chief Geologist North America for Antofagasta Minerals plc, investigating the region's copper potential through extensive property evaluations and management of drill programs in Alaska and Canada. Prior to Antofagasta, he was Senior Geologist for Almaden Minerals, where he managed the drill program for the team's discovery of the Ixtaca Ag-Au deposit in Mexico. Mr. Ullrich also established the Ar-Ar geochronology lab at the University of British Columbia and studied the Candelaria Cu-Au mine, Chile, while at Queen's University. Mr. Ullrich is also on the Technical Advisory Board for CopperBank Resources.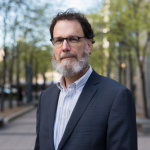 Dr. David Broughton
Chief Geologist, Storm and Seal Projects
Dr. Broughton is an acknowledged expert in sediment-hosted copper deposits with over 30 years' experience in mineral exploration. He was Geology Manager for Cyprus Amax's Kansanshi pre-feasibility project, now Africa's largest copper mine, and part of AMIRA P544's research team focused on the Zambian Copperbelt. From 2008 to 2016 he was Executive Vice President Exploration for Ivanplats, now Ivanhoe Mines. During his tenure, the world-class Kamoa Cu (Central African Copperbelt) and Flatreef PGE-Ni-Cu-Au (Bushveld Complex) deposits were discovered. He was co-awarded PDAC's 2015 Thayer Lindsley Award for International Mineral Discovery (Kamoa), and AME BC's 2016 Colin Spence Award for Excellence in Global Mineral Exploration (Flatreef discovery). Dr. Broughton is currently a Senior Advisor for Ivanhoe Mines. Dr. Broughton is a Fellow of the Society of Economic Geologists and a Fellow of the Geological Association of Canada. He received a BSc. (Hons) and an MSc. in Earth Sciences from the University of Waterloo and a Ph.D. in Geology from the Colorado School of Mines.