Summary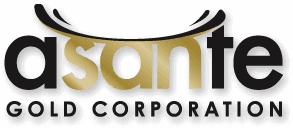 Asante Gold Corp. is a Canadian Securities Exchange listed gold exploration company based in Vancouver, Canada. The company is focused on the exploration and development of gold mining assets in Ghana.
Share Structure
As of Mar 25, 2019
Shares Issued
57,160,221
Warrants
7,879,798
Options
4,940,000
Fully Diluted
69,980,019
Investment Highlights
Gold in Ghana
Focused exclusively on gold exploration & development projects
Ghana is second largest gold producer in Africa and 9th globally
Projects located within Ghana's Golden Triangle
Near-term Production
Asante Gold currently sourcing project based funding to advance Kubi Gold Project
Exploration Upside
Exploration upside from 340km2 of concessions on strike or near brownfields to major Ghana operating mines
Recently drilled 3m of 13.1g/t gold at Keyhole Project in vicinity of extensive alluvial gold mining
Kubi Gold Development Project
Currently sourcing US$20M in project financing to develop the Kubi Gold Mining Lease toward production
Estimated 12 to 18 month* timeline to complete exploration decline, resource to reserve definition drilling, final mine planning, permitting and surface works – custom milling being considered
Target ~35koz Au per year at circa 550 tpd*
Resource open to expansion at depth – Ghana mines have deep roots
Low risk: brownfields to Obuasi mines, extensive drilling, previously surface mined, simple processing – to 95% recovery in metallurgical tests
NI 43-101 Mineral Resource :

Measured 0.66 Mt @ 5.30 g/t Au for 112,000 oz gold
Indicated 0.66 Mt @ 5.65 g/t Au for 121,000 oz
Inferred 0.67 Mt @ 5.31 g/t Au for 115,000 oz

Open at depth (ore shoots at nearby +66 million oz Obuasi mine are outlined to over 2.5 km depth)
Drill indicated +8 g/t Au high grade areas to be targeted for initial stope design from planned underground resource to reserve definition drilling program
20 year renewable mining lease
Large exploration upside on 19 km2 land package
Management Profiles
Douglas R. MacQuarrie President
Mr. MacQuarrie has over 40 years' mineral exploration experience, including the last 23 years in West Africa. He led the discovery and acquisition of significant gold deposits in Canada and in Ghana and is the former CEO of PMI Gold Corporation – which acquired and drilled off Obotan +5 million oz. prior to being bought by Asanko Gold in 2014 (valued at CAD$183million).
Philip Gibbs Chief Financial Officer
Mr. Gibbs has extensive knowledge of the financial aspects of Exchange listed exploration and mining companies operating in Africa and South America. He is currently the interim CEO of Kilo Goldmines Ltd., and CFO Macusani Yellowcake Inc. , and the former CFO of PMI Gold Corporation (now Asanko Gold).
Bashir Ahmed Director & Vice President Production & Development
Mr. Ahmed is a former Mine Manager at AngloGold Ashanti's Obuasi Mine with 30 years' experience in mine operations, planning, production and management. He managed Obuasi workforce of +1,000 employees with an annual budget of US$100 million. He is based in Obuasi, Ghana.