Summary

Ascot Resources is a Canadian mineral development company publicly traded on the Toronto Stock Exchange. Our focus is to re-start the processing plant at the historic Premier gold mine, a mine once named North America's largest gold mine. The site is located just 25 kilometres from the town of Stewart, in northwestern British Columbia in a prolific area known as the Golden Triangle. The Company filed its feasibility study in May 2020 for its 100% owned Premier and Red Mountain Gold Projects which would supply gold and silver ores to the process plant.  The study supports robust economics including base case After-tax NPV5% of C$341 million and IRR 51% with the benefit from existing road access, historical underground mining infrastructure, a mill processing facility, the nearby Long Lake Hydro power plant, a tailings storage facility, a water treatment plant, and mine waste stockpile infrastructure resulting in a low initial capital refurbishment cost. The plant will use conventional crushing, grinding, and gravity circuits followed by a standard carbon-in-leach process to produce a gold doré. Ascot is now focused on advancing its efforts towards basic engineering and permit amendments required for project approval along with continuing to explore and drill a number of gold and silver targets on its 25,000 hectares of mineral concessions.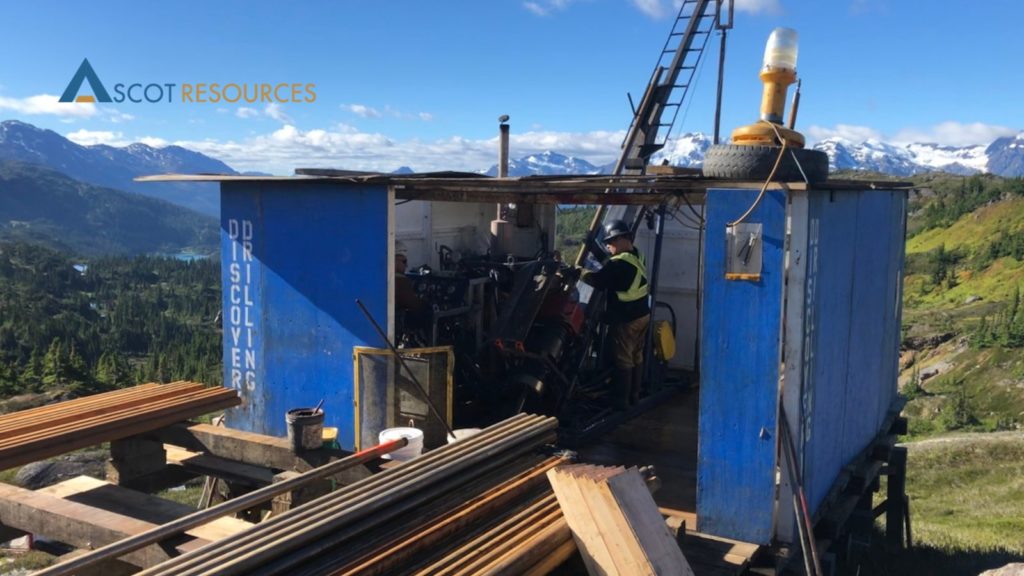 Share Structure
As of DATE Dec. 31 , 2020

Shares Issued
278,323,751

Options

19,985,209

Share Units

1,503,241

Fully Diluted

299,812,201
Investment Highlights
Secured US$105 Million Construction Finance Package for Premier Gold Project
Robust Feasibility Study with After-Tax IRR of 51% and NPV5% of $341M based on US$1,400/oz gold price, US$17/oz silver price and CAD to USD exchange rate of 0.76
Potential to extend the mine life with 12.8MT of Resources – ONLY 48% is contained in the Feasibility Study
Potential to new discovery: 25,000 Hectares of land package with ~70% unexplored grounds
Exploration Success in 2020 with High-Grade Results in new zones close to existing Resources and the presence of wide-spread mineralization in the Silver Hill area
Experienced Management Team with Strong Engineering & Operating Background
Projects:
Have a virtual tour visit on Ascot's projects at https://vrify.com/projects/321/sites/2195
Premier Gold Project (PGP)
The Premier Gold Project ("PGP") is located 25 kilometres from the town of Stewart, British Columbia in the prolific Golden Triangle with excellent existing infrastructures:
a paved highway to major transportation routes, a deep-water port (ice free in the winter), a concentrate load facility and extensive hydro power facilities for supporting mining and mineral exploration activities,
on-site infrastructures include mill and assay buildings, a tailings dam facility, underground mine infrastructure, BC Hydro power lines from Stewart, and water treatment plant and ponds.
August of 2019, an updated Mineral Resource estimate for PGP was reported at a 3.5g/t AuEq cut-off
Indicated: 4.141 million tonnes grading 8.25g/t AuEq containing 1.099 million ounces of AuEq
Inferred: 5.061 million tonnes grading 7.45g/t AuEq containing 1.213 million ounces of AuEq
PGP comprises of 8,144 hectares with about 70% of unexplored grounds and has already identified a number of exploration targets outside of the main deposits.

Red Mountain Gold Project (RMP)
The Red Mountain Project ("RMP") is located 15km northeast of the town of Stewart:
accessed by 2,000 meters of production-sized underground workings
excellent ground conditions and primarily amenable to low-cost stoping
received a Provincial Environmental Assessment Certificate on October 5, 2018 and a Federal Environmental Assessment Certificate on January 14, 2019.
In 2018, an updated Mineral Resource estimate was reported at a 3.0g/t Au cut-off
Measure & Indicated: 4.141 million tonnes grading 7.63g/t Au containing 782,600 ounces of Au
Inferred: 1.753 million tonnes grading 5.32g/t Au containing 69,300 ounces of Au
The RMP ground comprises 17,125 hectares with prospective geology suitable for the discovery of high-grade gold deposits of multiple mineralization styles with multiple exploration targets. Resources at Red Mountain remain open for expansion in multiple directions.
Non-gold Assets
Margaret Copper

The Mount Margaret porphyry copper-molybdenum-gold-silver deposit is located in Southwest Washington State.
A historic geological resource ('non 43-101 compliant") reported with 532.0 million tonnes grading 0.56% CuEq at 0.33% CuEq cut-off.

Swamp Point Sand & Gravel

The Swamp Point aggregate deposit is located on the east side of the Portland Canal near Stewart, BC.
Ascot owns 100% of the License of Occupation, which covers the sand and gravel deposit and the mine is permitted for 3.3 million tonnes of aggregate production per annum through to 2021.
Management Profiles
DEREK WHITE PRESIDENT & CEO
Derek White has over 30 years of experience in the mining and metals industry. He holds an undergraduate degree in Geological Engineering from the University of British Columbia and is also a Chartered Accountant. Prior to joining Ascot Resources Ltd. Mr. White, was the Principal of Traxys Capital Partners LLP, a private equity firm specializing in the mining and minerals sectors. Mr. White was President and CEO of KGHM International Ltd. from 2012 to 2015, and also held the positions of Executive Vice President, Business Development and Chief Financial Officer of Quadra FNX Mining Ltd. from 2004 to 2012. Mr. White has held executive positions with International Vision Direct Ltd., BHP-Billiton Plc, Billiton International Metals BV and Impala Platinum Ltd., in Vancouver, Toronto, London, The Hague, and Johannesburg. Mr. White is also an ICSA Accredited Director.
JOHN KIERNAN COO
John Kiernan is a Mining Engineer with over 30 years of mine operating, engineering, consulting, corporate and financial experience, including a cumulative four years as an underground miner and operating foreman. He was most recently VP Project Development for Magellan Minerals (acquired by Anfield Gold Corp), and is also a director of Kapuskasing Gold Ltd. Previously he was Manager Project Evaluation for QuadraFNX/ KGHM International, Mining Analyst for PI Financial Corp and VP Mining/Mine Manager for Roca Mines Inc. In the period from 1987 to 2006, Mr. Kiernan held various senior engineering positions with Strathcona Mineral Services, Inco Ltd., Wardrop and AMEC. Mr. Kiernan has a B.Sc. in Mining Engineering from Queen's University, and an MBA from Laurentian, and is Ascot Resources' qualified person.
CAROL LI CFO
Carol Li is a Canadian Chartered Professional Accountant (CPA) with over 20 years of financial and executive management experience. Prior to joining Ascot Resources Limited in November 2017, Ms. Li spent eight years at Quadra Mining Ltd./Quadra FNX Mining Ltd. as Corporate Controller and then five years at its successor KGHM International Ltd. as Vice President, Finance. She was a key member in the leadership team that transitioned the company from one mine junior producer to a multi-national company with six operating mines and three development projects. Before joining Quadra Mining, Ms. Li held various senior financial roles at Cartier Partners Securities and FPC Investment Inc. Ascot is one of the major shareholders of StrikePoint Gold, Ms. Li, serves as Ascot's representative on the StrikePoint (TSXV:SKP) board of directors. Ms. Li is also a member of the board of directors of DLP Resources Inc.
LARS BEGGEROW VP GEOSCIENCE & EXPLORATION
Lars Beggerow is a geologist with over 20 years experience in minerals exploration and development. Mr. Beggerow started his career in BHP's exploration group working on a large number of base metal and precious metal projects in Europe, North- and South America, Asia and Australia in successively more senior roles. In 2005 Mr. Beggerow was appointed chief geologist by Far West Mining and guided the technical team during the development of the Santo Domingo IOCG deposit in Chile from discovery to pre-feasibility and eventual successful sale of the company to Capstone Mining in 2011. After a short stint with Capstone, Mr. Beggerow provided consulting services to the mining and financial industry until joining Ascot Resources in October 2017. Mr. Beggerow holds a diploma in geology and paleontology from the Freie Universität Berlin in Germany.
KRISTINA HOWE VP, INVESTOR RELATIONS
Kristina Howe is experienced communications, media & investor relations professional with a broad range of experience in mergers and acquisitions, both within the mining sector and investment banking. Prior to joining Ascot Resources Limited in November 2017, Ms. Howe consulted to Traxys Capital Partners LLP, a private equity firm specializing in the mining and minerals sectors. From 2009-2015, Ms. Howe worked for Quadra Mining Ltd./Quadra FNX Mining Ltd. in Business Development and Investor Relations and was involved in a number of significant transactions during that period, including the merger with FNX in 2010 and the takeover of Quadra FNX by KGHM Polska Miedź SA in 2012. Ms. Howe has also worked for numerous investment banks, including Goldman Sachs in the U.K. and Citigroup in Melbourne, Australia. Ms. Howe has a B.A. from Carleton University.
MATTHEW KEBE VP, PROJECT DEVELOPMENT
Matthew Kebe has over 18 years of exploration, operations and project development experience. Mr. Kebe has held roles in base metal and precious metal mining while working in North and South America, Africa and Asia. Mr. Kebe has achieved progressively senior positions throughout his career with AMEC, Barrick Gold, Cliffs Natural Resources, KGHM International and established the consulting firm CJK Consulting to assist organizations with mineral project development, disciplined capital investment systems, project controls and portfolio management. Previously he held the roles of Head of Project Evaluation and Delivery with KGHM International where he oversaw the delivery of three successful feasibility studies and subsequent detailed audits as well as Principal Study Manager with the Mining Consulting group for Ausenco Engineering. Mr. Kebe attended Queen's University graduating with a Material and Metallurgical Engineering degree and is a registered Professional Engineer of Ontario.
ERIC KONIGSMANN VP, METALLURGY AND PROCESSING
Eric Konigsmann is a Metallurgical Engineer with over 37 years' experience in base and precious metal mining operations in North and South America. He is familiar with current technologies used in modern mill design, including grinding, flotation equipment, instrumentation and process control. Eric has been the commissioning manager for both brownfield and greenfield mining projects and spent a large part of his career working in projects and operations for Teck Resources Ltd, including the Pogo Gold project in Alaska, which has similarities to Ascot's Premier mine. Prior to Teck, Eric worked for Simons Engineering, Cambior and Noranda. Mr. Konigsmann has a B.Sc. in Mining Engineering & Mineral Processing from Queen's University, and holds a P. Eng. APEGBC designation.
DIANNA STOOPNIKOFF VP ENVIRONMENTAL AND REGULATORY AFFAIRS
Dianna Stoopnikoff has over 20 years of experience in EHS regulatory compliance, permitting projects, and relationship building. Prior to joining Ascot in 2016, Ms. Stoopnikoff held leadership roles at Fortune Minerals, Abacus Mining/KGHM International, Nova Gold and New Gold. Ms. Stoopnikoff has an environmental sciences degree in chemistry from BCIT.