Summary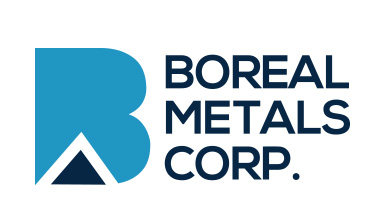 Boreal Metals Corp. ("Boreal") is a mineral exploration company focused on exploring the Gumsberg Project in the favorable mining jurisdiction of Sweden. The Company has completed 3 drill programs successfully finding high grade zinc, lead, silver and gold deposits. Considered a brownfield project with several historic mine workings that have never had modern exploration. The Company is led by an experienced management team and technical team, with successful track records in mineral discovery, mining development and financing.
Share Structure
As of May, 2019
Shares Issued
76,031,629
Warrants
2,400,250 @ 0.40
12,399,999 @ 0.89
500,000 @ 0.40
1,995,672 @ 0.15
17,421,921
Options
4,925,000
Fully Diluted
 98,378,550
Investment Highlights
Diversified portfolio with massive exploration potential
Sweden–stable, low risk jurisdiction
Promising resources–surrounded by active and historical mines
Experienced and accomplished management teams
Strategic partner–EMX Royalty Corp (NYSE:EMX)
Projects
Projects (Primary):
Gumsberg VMS Project

Completed 3 Drill Programs
Hit high grade intercepts over historical shallow workings
Hole ID
From

Meters
To

Meters
Length

Meters
Zn

%
Ag

%
Pb

%
Cu

%
Au

g/t
GUM-18-06
210.84
223.44
12.60
6.73
18.53
1.99
0.13
0.08
GUM-18-07
103.58
104.75
1.17
2.67
32.00
1.27
0.02
0.44
GUM-18-08
190.75
196.40
5.56
8.75
289.32
4.67
0.04
1.08
GUM-18-09
105.02
105.94
0.92
3.98
32.80
0.94
0.15
0.23
* Lengths reported as seen in drill core – true widths are estimated to be 50% of reported intervals.
Table 1: Drill Intercepts for holes GUM18-004 through GUM18-009 from Boreal's Gumsberg 2018-19 Diamond Drill Program
Projects (Secondary):
Burfjord IOCG Project

Tynset VMS Project
Management Profiles
J. PATRICIO VARAS, P GEO. Executive Chairman and CEO
Professional Geoscientist with over 30 years' experience in exploration, project development and corporate management. Mr. Varas has worked at operating mines, exploration projects (concept inception to discovery), feasibility studies of world-class deposits and mine development. Patricio founded and led Western Potash Corp. as its President and CEO, where his team discovered and developed the world class Milestone Potash deposit in Saskatchewan, the company was then taken over by a Chinese company. In difficult financing markets, Patricio and his partners raised over $240 Million for Milestone, where a change of control transaction was delivered in 2016. Patricio was instrumental in the discovery of the Santo Domingo Sur, deposit in Chile with Far West Mining, and was a member of the discovery team for the Diavik Diamond mine as a project manager while at Kennecot Canada Inc.
KARL RICHARD ANTONIUS President and Director
Finance professional with a 26 year career in Europe and North America including ten years with Raymond James and Canaccord Genuity. Mr. Antonius has extensive experience in venture capital and resource finance. He is the Founder and former President and officer of Mandalay Resources. TSE:MND Mkt Cap $361M. Owner-Operator Bjorkdal gold mine Sweden and the initial financier of Szartliden gold mine in Sweden.
ALEXANDRA WOODYER SHERRON Vice President of Corporate Development and CFO
Alexandra has over 20 years of management experience in the mining industry. Alexandra started at PricewaterhouseCoopers before joining Endeavour Financial, a global mining finance advisory firm. During her investment banking career in London, she was Director Structured Financing and involved in the successful completion of over US$1.5 billion in financings for clients including Bema Gold (Kupol Mine), European Minerals (Varvarinskoye Mine), Nevsun Resources (Bisha Mine), Uranium One and Wheaton River Minerals.
DANIEL MACNEIL, MSC, P. GEO. Vice President of Exploration
Precious and base metal specialist with over 16 years of experience with continental-scale project generation to in-mine resource expansion, in a wide variety of geological settings throughout the Americas and Eastern Europe. Expertise include exploration strategy, target and opportunity identification, district entry strategy, business development, strategic evaluation of geologic terranes, and execution of target testing. Significant experience with major, mid-tier and junior mining companies exploring for gold in orogenic, VMS, and epithermal setting.
DON MOSHER Vice President of Capital Markets
Don has been involved in the Canadian Capital Markets for over 30 years. He worked for Union Securities Ltd as a registered representative from 1986 through 1998. In 1998 accepted the position of Manager of Investor Relations with Napier Environmental technologies until 2003. He was also a founder of B & D Capital Partners, a consulting business that advises publicly traded companies in regards to marketing, fund raising, head hunting and other challenges facing management teams. Recently Don was a Director and VP of Capital Markets for Hempco Food and Fiber, assisting in the initial fund raising that resulted in their public listing. He was also instrumental in Aurora Cannabis Inc making a strategic investment in the Company that has resulted in a control position. Previously Don has served on several other boards and management teams, as well as serving as CEO of Rodinia Minerals Inc.
DAVID MAHER, PH. D. Technical Advisor
Over 24 years of mineral exploration and mine geology experience in Arizona and Nevada. David has worked in copper exploration and mine modeling with Magma Copper Co, BHP, and other companies in Arizona, Nevada, and Mexico. David joined Bronco Creek Exploration in December 2007, and Eurasian Minerals in 2010.
RODNEY ALLEN, PH.D Technical Advisor
Rodney Allen is an economic geologist with 39 years of experience in mineral exploration and geological research of complex ancient volcanic regions. Mr. Allen has carried out assignments for over 50 mining and mineral exploration companies, universities and government agencies in Australia, Europe, Canada, Turkey and Japan. He was Manager, Geology Research and Development for the Boliden Group, in Sweden for ten years and is currently Consultant Geologist and CEO for Volcanic Resources. Mr. Allen's geological interpretations were instrumental in the discovery of zinc-lead-copper-silver-gold ore bodies worth over $33 billion at Garpenberg and Renström in Sweden and Rosebery in Australia.