Summary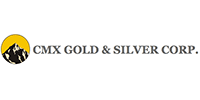 CMX Gold & Silver Corp. is a Canadian Securities Exchange listed mining exploration company based in Calgary, Canada. The company is focused on the exploration and reactivation of a silver-lead-zinc mine located in Idaho.
Share Structure
As of July 10, 2017
Shares Issued
34,215,724
Warrants
22,177,240
Convertible Debentures
2,365,128
Options
3,200,000
Fully Diluted
61,958,092
Investment Highlights
Stage set for commodities cycle to turn up again – resulting in significant upside for silver, lead and zinc.
Early stage public junior mining company focused on Clayton Property for silver-lead-zinc.
No legacy high-priced financings.
Idaho is a mining-friendly jurisdiction.
Clayton Project past-producer is drill-ready.
"Brownfield" exploration project with excellent potential for additional deposits.
Capable team with track record of success.
Clayton Silver Property
Clayton Property is a strategic asset that provides an attractive risk-reward opportunity to confirm silver-lead-zinc reserves, as it was formerly a producing mine shut down in 1986 due to low metal prices, but with active mine operations still in mineralization.
100%-owned project that has excellent potential for adding significant resources with successful drilling programs.
The Clayton Silver Mine is an example of a replacement deposit in carbonate rocks.
565 acres of 29 patented mining claims and 2 patented mill sites, plus 119 acres of 6 unpatented BLM lode claims.
Patented claims include surface ownership rights.
No government royalties, low property maintenance costs.
Old mine developed on 8 levels to 1100 ft depth.
Historical 6,000 m (19,690 ft) underground development.
Clayton Mine Production History to closure in 1986:
Tonnes of Ore milled
2,145,000
Silver (ounces)
7,031,110
Lead (lbs)
86,771,527
Zinc (lbs)
28,172,211
Copper (lbs)
1,664,177
Gold (ounces)
1,454
Gross Value*
USD $240,098,700
Gross Value per Tonne*
USD $111.93
* Based on the following prices in USD for demonstration purposes and not intended to represent fair value of historical production: Silver $17/oz, Lead $0.95/lb, Zinc $1.15/lb, Copper $2.40/lb, Gold $1,200/oz
Management Profiles
Jan M. Alston B.A., LL.B. President & CEO
Mr. Alston was born in Calgary, Alberta, Mr. Alston attended the University of Alberta where he obtained a BA in 1978 and an LLB in 1981. Mr. Alston has been involved in public junior natural resource companies for over 30 years. He practiced law in the 1980's in the areas of business law, oil and gas, securities regulation and corporate finance. Mr. Alston has been a member of the Law Society of Alberta from 1982 to present (inactive list). He led the management team as President, Chief Executive Officer, director and co-founder of Purcell Energy Ltd., an oil and gas exploration and production company listed on the Toronto Stock Exchange. After sixteen years, Purcell in 2005 sold two-thirds of its oil and gas assets for more than $150 million and spun out Tenergy Ltd. From November 2005 Mr. Alston was Chief Executive Officer and director of Tenergy Ltd., a Toronto Stock Exchange-listed natural gas exploration and production company, until its sale in March 2006 for $92 million. Since 2006, he has been involved in several private businesses in management and as an investor.
Randal E. Squires B.Sc. (Bus. Admin), MBA Chief Financial Officer
Mr. Squires is President of a commercial construction company in California. During his 21 year tenure he has held positions including Controller and Vice President of Business Development and Strategy. As Controller his responsibilities included budgeting, cash management, financial statement preparation and analysis, audit preparation, and bank, bonding and insurance relationship management. Mr. Squires has also held the position of Chief Financial Officer for Azteca Gold Corp. for the past six years. He received his M.B.A., Finance from Golden Gate University in 1995 and B.Sc. in Business Administration from Oregon State University in 1989.
James P. O'Sullivan B.Sc., LL.B. Corporate Secretary
Mr. O'Sullivan is a senior associate lawyer in the Calgary office of Norton Rose Fulbright (Canada) LLP. His current practice focuses on providing corporate and commercial advice to junior issuers, including start-up and growth companies active in the energy, mining, healthcare and technology markets. Mr. O'Sullivan's expertise includes corporate governance, regulatory compliance and continuous disclosure matters. He has extensive experience in financings, mergers and acquisitions and other corporate reorganizations. He also serves as corporate secretary for several Canadian public companies. Mr. O'Sullivan has been a member of the Law Society of Alberta since 2007.