Summary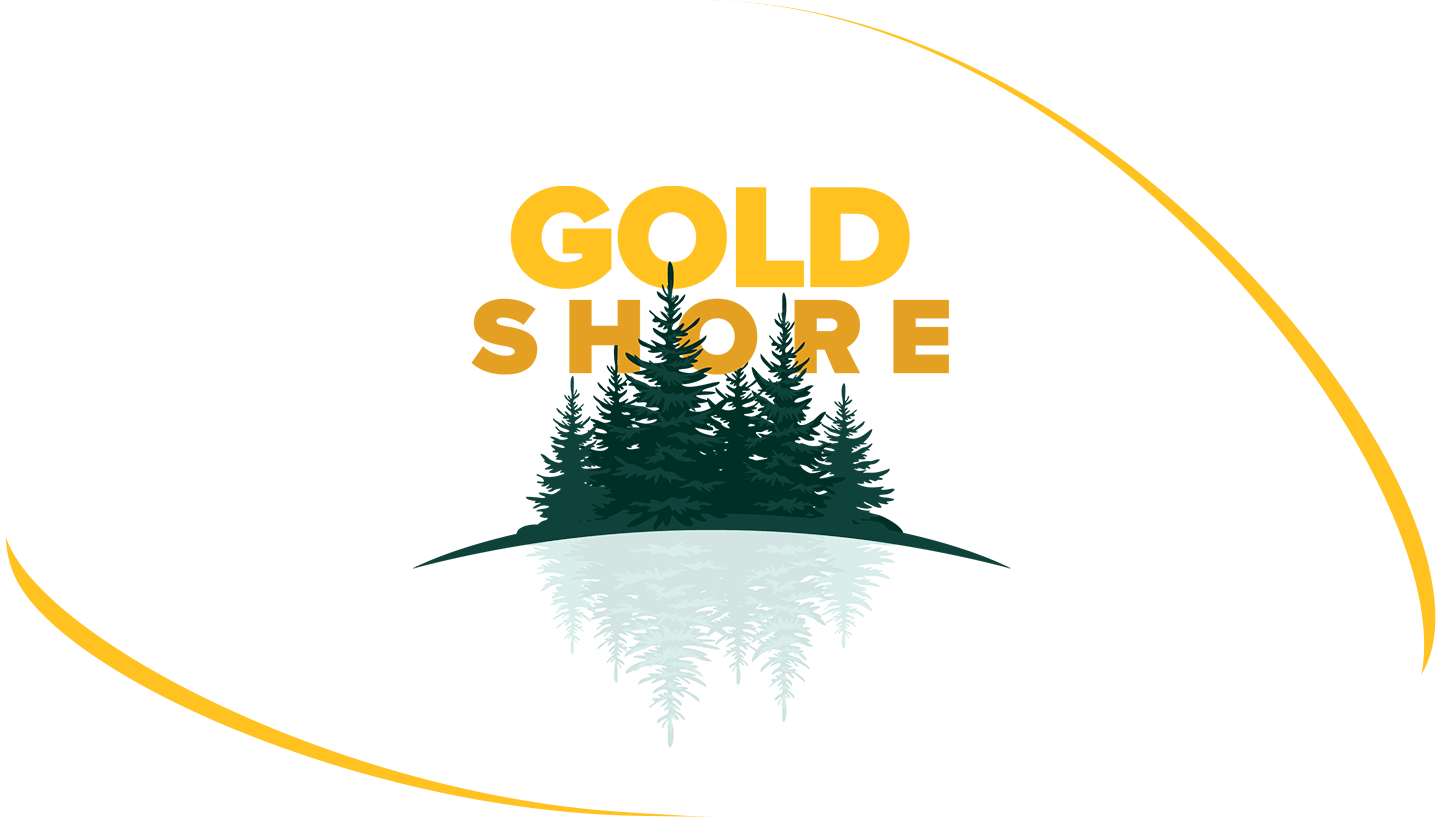 Goldshore Resources ("Goldshore" or the "Company") is an emerging junior gold developer, and acquired the Moss Lake Gold Project from Wesdome Gold Mines Ltd. in January 2021, and who remains a strategic shareholder of Goldshore with a 30% equity position in its common shares (TSXV:GSHR).  The company is well-financed and supported by an industry-leading management group, board of directors and advisory board.  Goldshore's Moss Lake Project has a historical resource of 4m oz. of gold, has embarked on a 100,000m drilling campaign and holds one of the largest land packages by a mining company in North-western Ontario.  The project displays significant resource expansion potential, as Goldshore takes the project through its next stages of exploration and development, towards an updated mineral resource estimation (MRE); updated preliminary economic assessment (PEA) and visibility towards feasibility study (FS).
Share Structure
As of  April 2022

Shares Issued
135.5M

Warrants

5M
Options

8.8M

Fully Diluted
Investment Highlights
Strong management, technical team and board with deep experience and track record of value creation
Drilling focused on three key domains along a +20 km mineral trend
Targeting an updated multi-million ounce gold resource with significant growth potential
Low risk jurisdiction in Ontario with a rich mining history
Multiple copper and gold targets indicated by airborne geophysics, future potential for Cobalt and Copper
Attractive economics and valuation with tight share structure. Significant leverage to rising gold prices
Projects:
The Moss Lake Gold Project
The Project is located approximately 130 km west of the city of Thunder Bay, Ontario. It is accessed via Highway 11 which passes within 1 km of the property boundary to the north.  The Project consists of 282 unpatented and patented mining claims that are 100% owned by Goldshore's subsidiary, Moss Lake Project Ltd., and covers 14,292 hectares.
The Moss Lake Project hosts a number of gold and base metal rich deposits including the Moss Lake Deposit, the East Coldstream Deposit (Table 1), the historically producing North Coldstream Mine (Table 2), and the Hamlin Zone, all of which occur over a mineralized trend exceeding 20 km in length. A historical preliminary economic assessment was completed on the Moss Lake Project in 2013 and published by Moss Lake Gold Mines Ltd1. A historical mineral resource estimate was completed on the East Coldstream Deposit in 2011 by Foundation Resources Inc2,3. In addition to these zones, the Project also hosts a number of poorly understood mineral occurrences which are reported to exist both at surface and in historically drilled holes. The Moss Lake Deposit is a shear-hosted disseminated-style gold deposit which outcrops at surface. It has been drilled over a 2.5 km length and to depths of 300 m with 376 holes completed between 1983 and 2017. The last drilling program conducted in 2016 and 2017 by Wesdome, which consisted of widely spaced holes along the strike extension of the deposit was successful in expanding the mineralized footprint and hydrothermal system 1.6 km to the northeast. Additionally, the deposit remains largely open to depth. In 2017, Wesdome completed an induced polarization survey which traced the potential extensions of pyrite mineralization associated with the Moss Lake Deposit over a total strike length of 8 km and spanning the entire extent of the survey grids. Historic drill hole highlights from the Moss Lake Deposit include 11.3 g/t Au over 70.4m in L-08-01, 2.55 g/t Au over 71.3 m in 89-172, and 1.19 g/t Au over 163.1 m in 87-101.
The East Coldstream Deposit is a shear-hosted disseminated-style gold deposit which locally outcrops at surface. It has been drilled over a 1.3 km length and to depths of 200 m with 138 holes completed between 1988 and 2017. The deposit remains largely open at depth and may have the potential for expansion along strike. Historic drill hole highlights from the East Coldstream Deposit include 4.86 g/t Au over 27.3 m in C-10-15.
The historically producing North Coldstream Mine is reported to have produced significant amounts of copper, gold and silver4 from mineralization with potential iron-oxide-copper-gold deposit style affinity. The exploration potential immediately surrounding the historic mining area is not currently well understood and historic data compilation is required.
The Hamlin Zone is a significant occurrence of copper and gold mineralization, and also of potential iron-oxide-copper-gold deposit style affinity. Between 2008 and 2011, Glencore tested Hamlin with 24 drill holes which successfully outlined a broad and intermittently mineralized zone over a strike length of 900 m. Historic drill hole highlights from the Hamlin Zone include 0.9 g/t Au and 0.35% Cu over 150.7 m in HAM-11-75.
The Moss Lake, East Coldstream and North Coldstream deposits sit on a mineral trend marked by a regionally significant deformation zone locally referred to as the Wawiag Fault Zone in the area of the Moss Lake Deposit. This deformation zone occurs over a length of approximately 20 km on the Project and there is an area spanning approximately 7 km between the Moss Lake and East Coldstream deposits that is significantly underexplored.
Table 1: Historical Mineral Resources1,2,3
 
INDICATED
INFERRED
Deposit
Tonnes
Au g/t
Au oz
Tonnes
Au g/t
Au oz
Moss Lake Deposit1  (2013 resource estimate)
Open Pit Potential
39,795,000
1.1
1,377,300
48,904,000
1.0
1,616,300
Underground Potential
–
–
–
1,461,100
2.9
135,400
Moss Lake Total
39,795,000
1.1
1,377,300
50,364,000
1.1
1,751,600
East Coldstream Deposit2  (2011 resource estimate)
East Coldstream Total
3,516,700
0.85
96,400
30,533,000
0.78
763,276
| | | | | | | |
| --- | --- | --- | --- | --- | --- | --- |
| Combined Total | 43,311,700 | 1.08 | 1,473,700 | 80,897,000 | 0.98 | 2,514,876 |
Management Profiles
Brett Richards CEO & Director
• Over 34 years of experience in mining and metals including mine financing, mine development, senior level operations and M&A.
• Led Banro Corp. through an operational transition as a private company to divest certain assets
• Former transition CEO of Roxgold (TSX:ROXG) and former senior executive of Katanga Mining (TSX:KAT)
• Former senior executive positions with Kinross Gold (TSX:K) and Co-Steel (TSX:CEI)
Peter Flindell VP Exploration
• 35 years of experience in mineral exploration and feasibility studies
• Led teams to discover, develop and expand several gold and copper mines in Southeast Asia, Central Asia, West Africa, Central Africa, Europe and Central America.
• Additional experience in base metal and iron ore projects
• 12 years with Newmont Mining, 11 years with Avocet Mining and 8 years with Signal Delta
Marlis Yassin CFO, CPA, CA
• Over 15 years experience working with companies in various sectors, including mining, technology, and industrial products
• Held senior finance management positions at various public companies, including a large industrial products company and mid-tier mining companies
• Gained extensive experience at Deloitte providing reporting, advisory and assurance services to publicly traded companies, primarily in natural resources
• CPA, CA (British Columbia) and holds a Bachelor of Commerce degree from the University of British Columbia