Summary

Graph Blockchain Inc. is a leading-edge Canadian Securities Exchange listed private blockchain solutions company. The company's enterprise platforms provide solutions for data management, business intelligence and data analytics, by delivering unparalleled processing speed and uncompromising performance quality. Graph leverages their proprietary integration of the AgensGraph Database engine with IBM's Hyperledger Fabric to create a transparent and immutable ledger with real-time transactional data processing and intuitive data visualization. In addition to strong performance, Graph's hybrid approach offers greater flexibility and scalability, benefiting industries with fast-paced and constantly changing environments. The company is currently focused on developing enterprise platforms for high-growth areas including the global logistics industry, the global trade sector, the cannabis health and wellness sector, and the electric vehicle charging sector, through our distribution for clients that include divisions of Samsung, LG and KTNET.
Share Structure
As of Nov 11, 2018
Shares Issued
138,284,581
Warrants
5,020,685
Options
None
Fully Diluted
143,305,266
Investment Highlights
Over C$1.35M in revenue and contracts, solidifying the technology value and business model
In discussion with multinational clients representing potential contract values of up to C$80M
Strategic relationship with international conglomerate IBM
Multiple marquee multinational clients: LGE Korea, Samsung Korea, KTNET, and KB Life
Building an IP Portfolio in the US and Korea: 2 patents approved, 2 patents pending and 10 patents in process of being filed
Positioned for growth across industry verticals and within current clients "land and expand"
Other Information
Projects:
Private Blockchain Enterprise solutions for that:
Ensures all transactions are recorded, transparent and immutable
Real-time business intelligence and data analytics
Enterprise ready database management
Incredibly fast speeds at presenting data from the Blockchain on to the dashboard
Project industries include:
Global Logistics
Global Trade Infrastructure
Cannabis Health and Wellness
EV Charging Infrastructure
The Core Solution: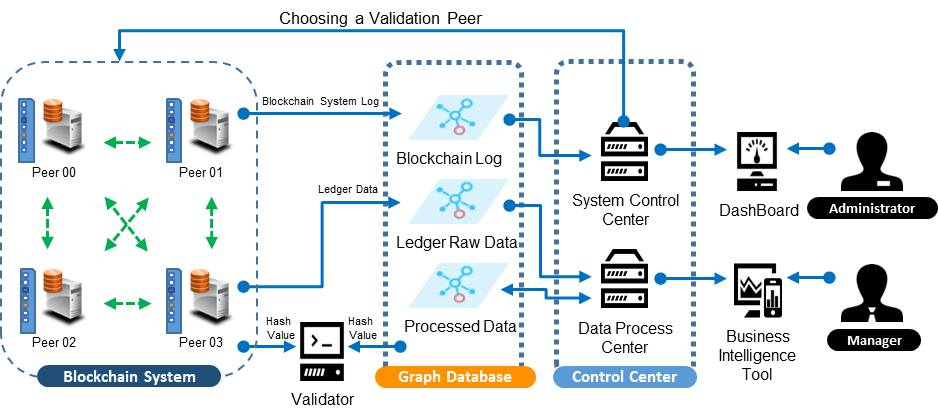 Management Profiles
Jeff Stevens CEO & President
Jeff brings over 18 years of professional experience in the Canadian Capital Markets, largely focusing on raising capital for micro-cap and small cap companies. He currently sits on the board of two public companies assisting with project selection and financing. He has worked on the Retail, Buy, and Sell sides of the industry, having held positions as Assistant Investment Advisor, Arbitrage Trader, as well as having been the head of two Sales and Trading desks for a US-based investment bank in Toronto. During his tenure Jeff was involved in raising in excess of $500M for public and private companies with a client base including Institutional Money Managers, Hedge Funds, Mutual Funds and Family Offices in Canada, US and Europe.
Andrew Ryu Director
Andrew Ryu is a seasoned and experienced entrepreneur and operator in public and private companies. He is a founder and CEO of TLA Inc., president of business development of Archer Education Group, and founder and former CEO of Loyalist Group Limited, which was nominated as the top TSXV company in 2013, ranked fourth in 2014, and was the top pick of the street in 2014. He was nominate of EY entrepreneur of the year in 2014.
Steve Kang CFO
• 25+ years finance and accounting experience with Honeywell, LG Electronics and various public companies in Canada
• CFO and VP Finance of Datametrex AI Limited where he spearheaded Datametrex Ltd's qualifying transaction with Everfront Ventures Corp. in June 2017 - Datametrex is now a listed company on the TSXV
• B.A. in Economics from Korea University
• Certified Management Accountant (USA) designation
• Chartered Professional Accountant, CGA (Ontario) designation
Justin Bae Vice President of Technology
• Has developed, planned and managed projects with various organizations including government agencies and educational institutions in Information Technology for over 17 years
• Currently completing his Information Technology Engineering Ph. D. degree
• Justin's primary research includes traversal performance of Blockchain and use cases of Blockchain technology as Databases.
Stephen Kim Director of Technology
• Software Engineering Ph.D. degree
• Has been involved with national research projects, and work for government agencies in privacy information protection
• Current body of work includes Hyperledger Fabric analysis, Distributed Ledger Technology (DLT) research, Business Process Re-engineering (BPR) and solution Good Software (GS) certification.
• Primary research is visualization analysis of blockchain for performance improvement.