Summary

Maxtech Ventures Inc. is a junior exploration company assembling and acquiring mineral assets worldwide. The company has assembled multiple assets that it intends to develop with its established partners on the ground in strategic global regions.
Share Structure
As of Apr 28, 2020
Shares Issued
72,422,706
Warrants
4,166,970
Options
9,336,512
Fully Diluted
85,926,188
Management holds ~ 12% of the company
Investment Highlights
World-class Red Lake mining district globally known for high-grade gold deposits and production
Focus on Red Lake asset Ontario Canada
Proximity to Great Bear Resources' Dixie Lake discovery (TSX: GBR) and past producing South Bay and Uchi Gold Mines
Excellent infrastructure including roads and skilled work force
Drill Program to Begin May 15th 2020
Projects
Panama Gold Project, Ontario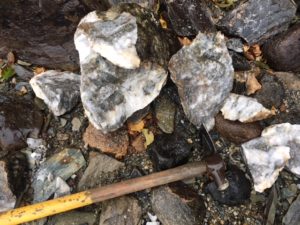 Minimal exploration has been done on the claims but the Panama Zone has been the main focus of all pre-exploration activities and the Panama Zone was previously drilled by Noranda Exploration Ltd. in 1988. Results from this drill program of 8 widely spaced diamond drill holes over a 1.4 km strike length yielded results of up to 2.8 g/t Au over 4.5 m within a 20-30 m wide mineralized shear zone.
A regional glacial till sampling survey (Geological Survey of Canada, 1999 – Open File 3038) that collected a sample on the Panama Lake claims, contained 107 gold grains, the highest count in the survey which covered the Red Lake mine trend that has produced over 25M ounces of gold. Great Bear Resources Ltd.'s new discovery in the Red Lake district (see Great Bear's press release dated August 22, 2018), made this project exciting to pursue for the Company due to the identical geological features and proximity.
The land package has 11,700 hectares; 88.5sq km
Gold intersected in every hole drilled in 2018 by Benton Resources
Drill program to begin May 15th 2020
2018 drill program by Benton Resources (TSX: BEX) intersected 1.58gpt gold over 7.6m confirming the 1989 Noranda Exploration results of up to 1.2gpt over 15m including 2.8gpt gold over 4.3m
2019 geophysical survey traces known mineralized structures and has helped to outline extensions and new mineralized structural trends/targets
Management Profiles
Peter Wilson CEO
Mr. Wilson has been the lead financier for public and private companies in the mining and energy fields internationally during the last 20 years. An experienced corporate executive, he has extensive relationships in project acquisition, corporate structure and finance specializing in but not limited to the global resource sector. As president of Hana Mining Ltd based in Vancouver, Canada, he helped with the discovery of a major copper/silver district in Botswana.
James Rogers Senior VP Exploration, P.Geo
Mr. Rogers is a geologist with forty years of experience in the gold mining and exploration industry. Starting as a mine geologist in 1980, Jim has almost 30 years in the Red Lake Gold mining camp in roles as Chief Geologist, Exploration Manager and as president of a junior exploration company. In the early days, Jim and his team discovered the high-grade zone at the Red Lake mine. Jim also spent 9 years as chief geologist at the Eskay Creek Mine where grade control and metallurgical study were critical to profitable mining and to expanding reserves. Jim is a team player and mentor and that has a good understanding of economics, mining methods and the structural interpretations of ore bodies, excellent 3D and "Big Picture" strategic vision particularly as they relate to gold system exploration and development.
Avrom Howard QP
Mr. Avrom is a minerals exploration geologist with forty years mining industry experience obtained in ventures involving a variety of commodities and geological settings around the world, with an emphasis on gold.  A number of projects he was instrumental in advancing are currently in production.  Mr. Howard obtained his Bachelor's degree in Geology from the University of Toronto, in 1979, and his Master's degree in Geology from the University of Colorado at Boulder, in 1992, his thesis having been written on a gold-silver telluride deposit in the Colorado Mineral Belt.  Avrom has served in both a technical and executive capacity in a number of public resource ventures.  He is registered with the Professional Geoscientists of Ontario.
Kelly McQuiggan CFO
Mr. McQuiggan has been leading finance teams in Vancouver, BC since 2008 with a focus on financial reporting, income tax, raising capital, and corporate structures. He earned his Chartered Accountant designation in Alberta after articling with KPMG LLP and MacKay LLP. Mr. McQuiggan is the founder of Cellar Door Advisors, and is a consultant with Invictus Accounting Group LLP, a boutique Vancouver advisory firm providing financial reporting and regulatory compliance services to privately held and publicly traded companies since 2012. Kelly is an avid cyclist and golfer, and is a provincial curling champion.