Summary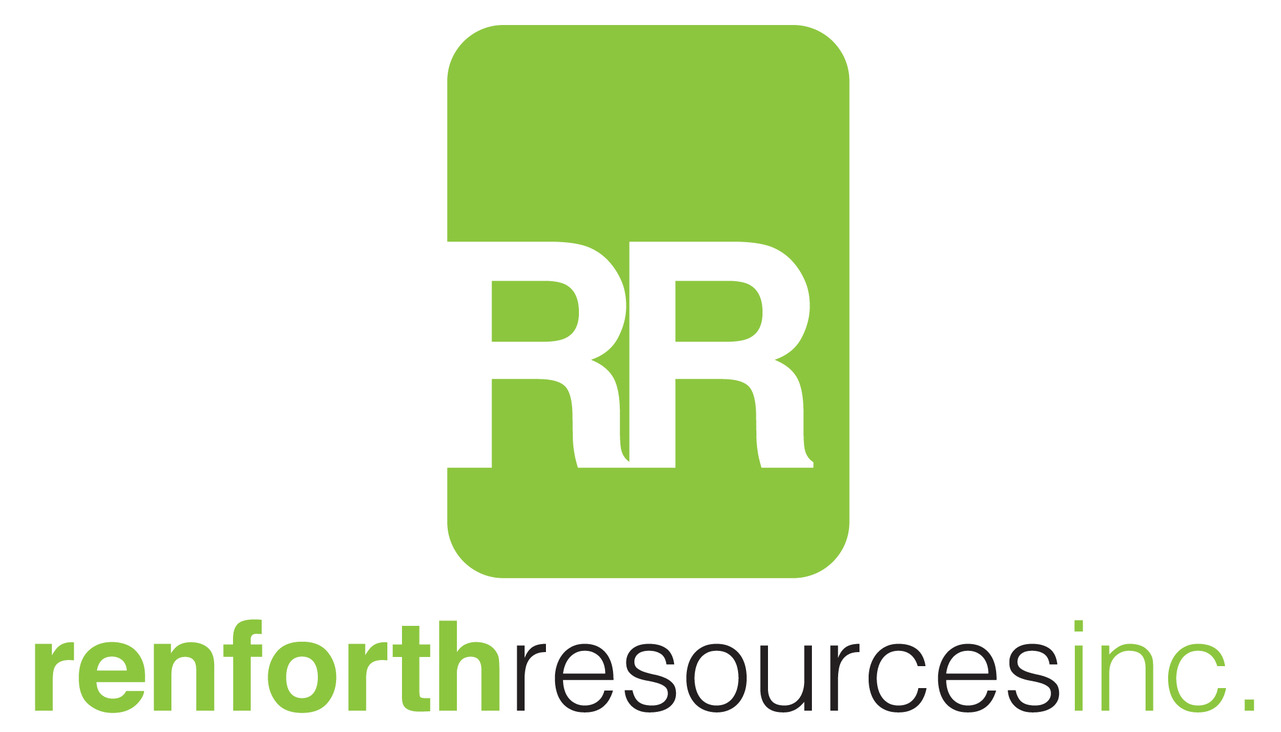 Renforth Resources Inc. is a Toronto-based gold exploration company with five wholly owned surface gold bearing properties located in the Provinces of Quebec and Ontario, Canada.
In Quebec Renforth holds the New Alger and Parbec properties, in the Cadillac and Malartic gold camps respectively, with gold present at surface and to some depth, located on the Cadillac Break. In both instances' additional gold bearing structures, other than the Cadillac Break, have been found on each property and require additional exploration. Renforth also holds Malartic West, contiguous to the western boundary of the Canadian Malartic Mine property, located in the Pontiac Sediments, this property is gold bearing and was the recent site of a copper discovery.  In addition to this Renforth has optioned the wholly owned Denain-Pershing gold bearing property, located near Louvicourt, Quebec, to O3 Mining Inc.
In Ontario Renforth holds the Nixon-Bartleman surface gold occurrence west of Timmins Ontario, drilled, channeled and sampled over 500m – this historic property also requires additional exploration to define the extent of the mineralization.
Share Structure
As of  Apr 20, 2020
Shares Issued
205,771,167
Warrants
Options
Fully Diluted
Investment Highlights
The Right Location: The company projects are surrounded by former & producing gold mines in Safe jurisdiction
Significant logistical advantage with toll milling capacity nearby
The Right Geology: Flagship properties combine for 3.2km of strike on the Cadillac Break in the prolific Abitibi Greenstone Belt.
Surface mineralization with open pit potential
The Right Approach: 90% of capital raised goes into the projects
Projects
New Alger – Surface Gold
New Alger hosts a maiden gold resource at surface, to a depth of 200m, with an exploration target of known mineralization between 200m and 350m depth requiring additional drilling to bring up to a resource category. It has an inferred resource of 237,000 oz of Gold (2.1 g/t grade) from a resource statement back in 2014.
In addition to this resource in the Thompson-Cadillac Mine area of the property, on the Cadillac Break, Renforth has discovered that in the Pontiac Sediments to the south of the mine area are several gold bearing quartz vein "horizons" running parallel to the Cadillac Break. The "Discovery Vein" horizon has seen the most exploration to date, traced over a distance of greater than 450m by Renforth, this veining was also explored from underground in the 1930's. As best as Renforth can determine the initial discovery of gold in 1924 at New Alger was in the Discovery Vein area, whatever was on surface at that time warranted driving a tunnel several hundred feet south and then drifting underground a few hundred feet east to west, unfortunately no information as to what was mined in that location is available.
Parbec – Surface Gold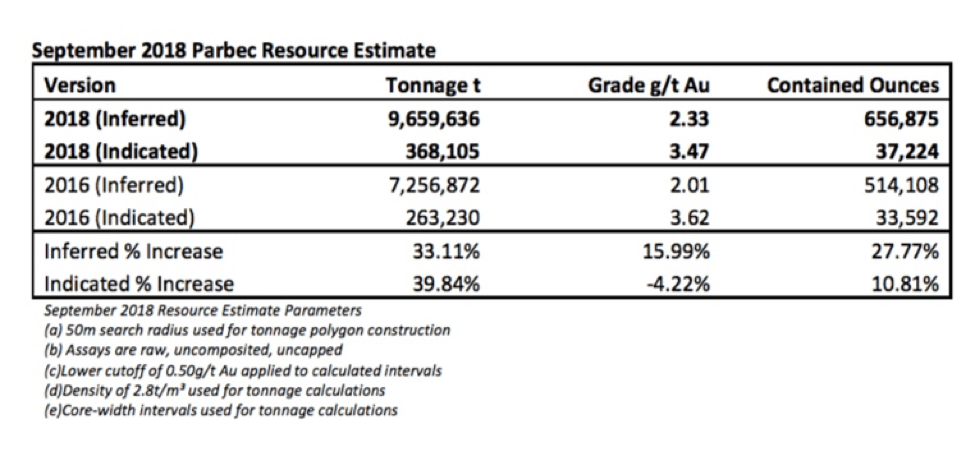 Malartic West – Gold, Copper/Silver Discovery
Wholly owned the Malartic West property covers 53 km² adjacent to the entire western border of the Canadian Malartic Mine property, Canada's largest open pit gold mine.  The Malartic West property is located within the Pontiac Sediments, in some instances within a couple hundred metres of the Cadillac Break, and is known to host gold. Renforth is in the early exploration stage at Malartic West, applying the same techniques which brought discovery success at New Alger and Parbec to this very prospective gold-bearing ground.
Nixon Bartleman – Surface Gold
Nixon-Bartleman, with gold on surface over 500m of strike, remains open.  The property is known to host five gold bearing quartz veins in a structurally complex environment, sitting on the Destor-Porcupine Fault with at least one under-explored cross-cutting fault associated with a gold anomaly.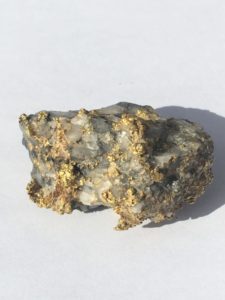 Renforth holds 100% of the Nixon-Bartleman project, subject to a 2.5% NSR, consisting of four patents and 15 staked claims over an area of 313Ha, straddling the Porcupine Destor Deformation Zone, in the Porcupine Mining Camp of the West Timmins Mining area, approximately 45 km SW of Timmins, only 10 kms SW of Lakeshore's West Timmins Mine.
The property has seen historic drilling with 43 drill holes, assay results include up to 40 g/t gold and intersected a gold-bearing porphyry. There has been no cumulative and comprehensive compilation work done on the property to date, Renforth has a large amount of historic data and will leverage this going forward.
The image on the right is a specimen sample from Nixon-Bartleman obtained from the family of the earlier holder of the property.
Denian-Pershing – Gold
The wholly owned Denain-Pershing Project is 10,001 hectares in size, covering drilled results such as 145 g/t Au in a first screen and 44.6 g/t Au in a second screen analysis of the same sample, taken from 190.35 to 190.65 m obtained by a prior operator, a gold bearing banded iron formation, additional gold showings and the meeting of the eastern end of the Cadillac Break with the Grenville front, a virtually unexplored and very prospective area.
The Project is located in an active mining camp, on strike to the Chimo Mine and contiguous to the Croinor Mine.
Management Profiles
Nicole Brewster President & CEO, Director
Nicole Brewster brings to Renforth a background which began growing up with an exploration geologist as a father and a first foray into the working world hands on in exploration, manually splitting kimberlite core. Nicole developed her exploration expertise away from only manual labour (though the opportunity is still relished and respected) and into the world of computers at the advent of data compilation, mapping and manipulation, including geophysics, to aid in exploration. From a significant shareholder in Renforth to President, Nicole's over-riding motivation began as, and continues to be, to unlock the value of the New Alger Property, the legacy of an old family friend, which Renforth initially held the rights to. Subsequent to becoming President Nicole fixed corporate issues financially and with the Board, consolidated all shareholders (including Nicole), brought the New Alger Property ownership to the 100% level, acquired Nixon-Bartleman, West Malartic and Denain-Pershing – the latter two joint ventured in order to conserve capital and develop strategic partnerships with SOQUEM and Chalice Gold respectively, and entered into the 100% option on the Parbec Deposit. Nicole currently focusses Renforth's attention and capital on the development of New Alger and Parbec, the latter to complete the earn-in.
Kyle Appleby CFO
Renforth benefits from Kyle Appleby's accounting expertise, supporting the Company's bear market strategy of minimal fundraising and 100% deployment of funds raised to advance our projects with his detailed financial management skills. Kyle, a proud Toronto native (and a Leafs fan no less), became a CA in 2001, after his lifelong dream, of being lead guitarist, in a blues band, did not work out. Since that time Kyle has worked both the audit and the issuer side of the business, concentrating on providing, contract CFO services to a number of reporting issuers and private companies, active in the resource, agritech, technology and cannabis spaces with experience in take-overs and amalgamations.
David Wahl Technical Director
David Wahl's career in the mineral exploration sector has spanned more than 45 years, 6 continents and 70 countries, assessing, exploring and advising on properties for government agencies, public and private mining and exploration companies, financial institutions and private individuals. Mr. Wahl, having graduated from the Colorado School of Mines as an "Engineer of Mines" is qualified as a Professional Engineer of Ontario, a Professional Geoscientist of Ontario and with the Institute of Corporate directors.