Summary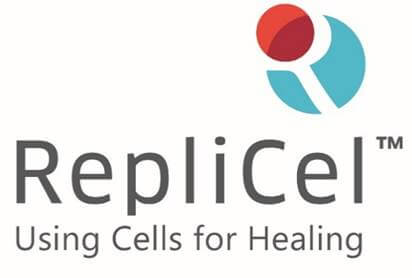 RepliCel is a TSX Venture Exchange and OTCQB listed regenerative medicine company based in Vancouver, Canada. The company is focused on developing autologous cell therapies that address diseases caused by a deficit of healthy cells required for normal healing and function.
Investment Highlights
Autologous cell therapy is a large market expected to reach USD$2.2 billion by 2017.

RepliCel has developed and filed patents applications relating to hair follicle fibroblast therapy for chronic tendinosis, hair follicle dermal sheath cup cell therapy and dermatology injector device.

One of the few foreign companies already in place in Japan to take advantage of the early market access program they have just launched for cell therapies.
Products
Products:
Clinical Product 1 (RCT-01 – Tendon Repair) – Phase 1 – 8 months until clinical milestone
For treatment of Chronic Tendinosis.
The company has received Health Canada Clearance and UBC Ethics approval to conduct its Phase 1/2 clinical trial for the treatment of chronic Achilles tendinosis.
Clinical Product 2 (RCS-01 – Skin Rejuvenation) – Phase 1 – 8 months until clinical milestone
For treatment of aging and UV-damaged skin.
The company received approval from the German Competent Authority, the Paul-Ehrlich-Institut (PEI) for its Phase 1 clinical trial investigating the use of Product 2 to treat patients suffering from aged and UV-damaged skin in August 2015.
Clinical Product 3 (RCH-01 – Hair Regeneration) – Phase 2 in progress – Joint venture with Shiseido
For treatment of male pattern baldness.
Shiseido is committed to RepliCel's license of Product 3 and is now preparing to launch its own clinical trial in Japan. The deal includes sales milestone payments of $31 million and sales royalties.
Medical Device 1 (RCI-02 – Dermal Injector) – Prototype – 8 months until sales approval by FDA
The Medical Device 1 is the world's first motorized dermatology injection device with programmable depth and volume. It improves the delivery of a variety of injectable substances including cells, dermal fillers, drugs, or biologics in a precise manner.
Prototypes are now being built to design specifications for industrial and regulatory testing.
Management Profiles
R. Lee Buckler, B. Ed, LLB President, CEO & Director
Mr. Buckler has been an executive in the cell therapy sector since 2000 beginning with Malachite Management in the Stem Cell Technologies group of companies. Most recently he was the Managing Director of Cell Therapy Group, a firm he formed in 2008 where he did business development consulting for companies and organizations in or interested in the cell therapy sector. Mr. Buckler served six years as the Executive Director of the International Society for Cellular Therapy and just over two years as Director of Business Development for Progenitor Cell Therapy. Mr. Buckler serves on numerous industry conference advisory boards, is an advisory board member for BioCision, Phacilitate Cell & Gene Therapy and RoosterBio, and is on the Board of Directors for Hemostemix.
Dr. Rolf Hoffmann, MD Chief Medical Officer
Dr. Hoffmann is a European-based clinical researcher who has spent decades researching the fields of pattern hair loss, alopecia areata, endocrinology of the hair follicle and hair follicle morphogenesis. Together with Dr. McElwee, he is the applicant of a landmark patent on the use of hair follicle cup cells and their use in hair diseases. He is working clinically in his private practice, as a teaching professor in the Department of Dermatology for Marburg University, as well as a researcher on histopathology on hair diseases, where he has published chapters in text books. He is the inventor of TrichoScan®, a computerized technique to measure hair growth.
Dr. Kevin McElwee, PhD Chief Scientific Officer
Dr. McElwee, co-discoverer of the Company's technology, is an Associate Professor in the Department of Dermatology and Skin Health at the University of British Columbia, and Director of the Hair Research Laboratory in the Vancouver Coastal Health Research Institute at Vancouver General Hospital (VGH). His research is funded by competitive grants awarded by multiple organizations including the Canadian Institutes for Health Research (the equivalent of the National Institutes for Health in the USA). Dr. McElwee is one of only a small group of research scientists worldwide who studies hair biology and associated diseases. He has worked as a hair research scientist for 12 years and has published over 70 medical journal articles, research abstracts and academic book chapters on hair loss research.
Tom Kordyback, CA CFO
Tom Kordyback is a Chartered Accountant and a member of the British Columbia Institute of Chartered Accountants with over 25 years of experience in corporate finance and management for emerging growth companies. From 1984 to 1994, he held senior financial positions with Glenayre Electronics Inc. and Telelink Communications Inc. and worked as a consultant to other Vancouver area companies. In 1995, he began working for Creo, now part of Eastman Kodak Company as their Chief Financial Officer. In this role he oversaw private financings totally over $80 million and in 1999 he led the company's Initial Public Offering on NASDAQ. He remained at Creo until 2000; at which time, the company had over 4000 employees worldwide. In 2004, Mr. Kordyback joined Extreme CCTV Inc., a developer and manufacturer of state-of-the-art surveillance systems listed on the TSX. He worked for them for three years as a director and member of its Audit, Compensation and Merger and Acquisitions Committees. In 2008 the company was sold to Bosch Security Systems, Inc. for CDN $93 million. Mr. Kordyback currently serves as a director of Silver Sun Resources Corp., a public Canadian-based resource company.