Summary

Vanstar Mining Resources Inc. is a publicly traded company engaged in the acquisition, exploration, production, development and operation of mining properties.
Listed on the Toronto Stock Exchange Venture under VSR and on the Frankfurt Stock Exchange under 1V8, the company operates in Quebec, one of Canada's richest mining provinces.
Share Structure
As of Feb 6, 2019
Shares Issued & Outstanding
44,204,420
Warrants
1,550,000
Options
6,486,000
Fully Diluted
52,240,420
Investment Highlights
Vanstar's key project Nelligan has a strong partner in IAMGOLD, with an option to earn up to 80% interest
A vast auriferous hydrothermal system, with all gold zones still open laterally and at depth
Many geophysical anomalies such as IP and MAG, Many diamond drills targets still available
43-101 report of the gold resource estimate coming soon
Operating in a safe mining jurisdiction in Quebec
A relatively tight share structure at this stage, with IAMGOLD spending to work on the project, the company can also focus on other projects without too much shares dilution.
Good positive cash flow. No debt.
Less than 44 million shares outstanding
Other Information
Projects:
Nelligan Project (Northwestern Quebec)
The Nelligan project consists  of 158 cells for  a total of 8,216 hectares in a small area of the large Caopatina segment belonging to the North Volcanic Zone of the Abitibi Belt of the Superior Province. The property is centered on the E-W Druillette synclinal with sediments of the Caopatina Formation bounded to the north and to the south by volcanic rocks of the Obatogamau Formation. The North and South portions of the property are occupied by granodioritic to tonalitic intrusions. The project is affected by several structures and deformed zones.
Gold showings of the area can be grouped according to their style of mineralization: Quartz-sulphide vein type mineralization and disseminated pyrite mineralization. On the local scale, the Nelligan project contains several interesting gold showings including Liam and Dan Zones discovered by drilling in 2013 and 2014 and the historical Lake Eu showing. New gold zones were intersected to the north of the known gold showings and revealed the widespread presence of gold over a strike length of more than 2.2 kilometres, over a width of a few hundred metres and a depth of over 400 vertical metres (Zones 36 and Renard). These prospective showings appear to fall within a structural corridor with a potential strike length of several kilometres associated to the Guercheville Deformed Corridor located 5 km north of the property.
Potential of many millions' ounces of gold in a vast hydrothermal gold system in place.
The Nelligan Project is held under an earn-in option to joint venture agreement between IAMGOLD Corporation and Vanstar. IAMGOLD obtained 51% interest in the Nelligan property in counterpart of  2,550,000$ cash and $4.2 millions in work expenses on Nelligan. IMG can earn a further 24% undivided interest in exchange for cash payments totaling C$2,750,000 to Vanstar and the delivery of an NI 43-101 compliant Resource Estimate Technical Report before March 2022.  Finally, IMG could get an other 5% interest in counterpart of a faisability study on the project Nelligan.
Vanstar would then retain a 20% undivided non-contributory carried interest until the commencement of commercial production, after which: (1) the 20% undivided interest becomes participating; and (2) Vanstar will pay its attributable portion of the total development and construction costs to the commencement of commercial production from 80% of its share of any ongoing distributions from the Joint Venture
Vanstar will never have to raise capital and dilute itself in order to keep its 20% interest in the Nelligan project.
On top, Vanstar will also retain a 1% NSR royalty on selected claims of the project.
Recently IAMGOLD intersected a series of significant drill results from the Renard zone. These results come from 9 drill holes for a total of 4,497 metres. The result includes drilling Intersections of 3.59 g / t Au Over 42.1 Metres and 5.69 g / t Au Over 27.8 Metres.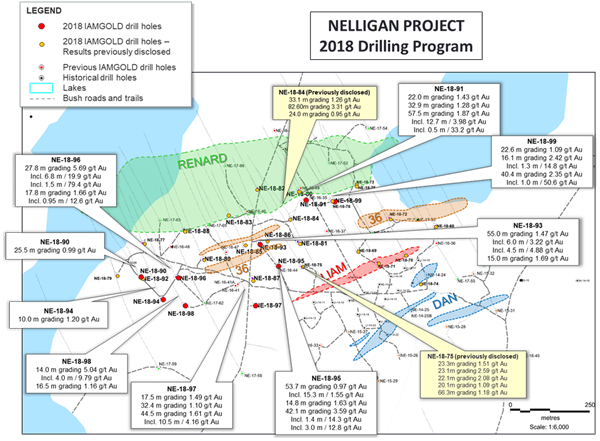 In winter 2019, a further 12,000 to 15,000 metres of diamond drilling program is planned to infill and further test continuity of the mineralized zones of the Renard system. Drill rigs are currently being mobilized to the property with the commencement of drilling activities expected by mid-January.
The drilling results, coupled with ongoing geochemical and structural studies, will be integrated to support the development and refinement of a deposit model with the objective of completing an initial NI 43-101 compliant resource estimate in 2019.
Short term target for Renard gold zone is to define 1 to 2 million gold ounces.
Emile Project
Adjacent to the Nelligan property
Geophysics suggests the same folding and faulting patterns as on the Nelligan property
Geology shows the presence of the same geological units containing the new gold discovery on the Nelligan Project
Ground magnetic survey shows 5 targets with same signature as the gold discovery on the Nelligan project, and these targets are ready to drill
Management Profiles
Guy Morissette CEO
As owner of a mining contracting company Mr. Morissette has been involved in Canadian mining for over 30 years. He has founded and developed several mining exploration companies. From 1993 to 1996, he held the position of President at Silver Star Resources Inc., which later became Perlite Canada Inc. From 1997 to 2000, Mr. Morissette was President of Golden Gram Resources Inc., which became Golden Gram Capital Inc. He also founded Essor Resources, Canaco Resources and Eider Resources.
Denis Tremblay CFO & Corporate Secretary
Mr. Tremblay has been involved in the management of publicly traded companies for more than 20 years. From 1995 to 1997, he was an investor relations consultant. From 1997 to 2010, he became Vice-president Communications, Director and Corporate Secretary of SearchGold Resources Inc (RSG-TSX V). In 2008, he was involved in the IPO of Golden Share Mining Corporation (GSH-TSX V), where he was Vice-president and Corporate Secretary until 2010.
Gary Claytens Director
Gary completed three years of Geology at the University of British Columbia before transferring faculties and receiving his Bachelors' degree in Economics in 1984, specializing in resource economics. He became a stockbroker and mining analyst with Yorkton Securities in North Vancouver, B.C in 1985.
Eric Gervais Director
Mr. Gervais has extensive academic training that will be useful for advising Vanstar on its future projects. As a holder of an MBA from Cornell Johnson School of Business as well as a Master of Computer Science from Carleton University, Mr. Gervais has extensive experience in the technology sector. He is currently Director, Software Development for Immersion (Nasdaq:IMMR), Headquartered in San Jose, California. He also worked as a Software Developer for Dexterra, based in Seattle, and for Zeligsoft, in Ottawa. Mr. Gervais also has extensive knowledge in Software Architectures and Programming, which allows him to identify and evaluate opportunities that can arise in this fast-evolving industry.
Martin Richard Martin Richard
Mr. Richard is currently a partner at the Montreal office of Boyden, a global executive recruitment firm. Mr. Richard has extensive experience in sales and business development in the financial communications sector. He was Sales Director, Quebec and Eastern Canada for Donnelley Financial Solutions (previously RR Donnelley- (NYSE:DFIN)) as well as Vice-President, Sales for Bowne Financial Communications (NYSE:BNE). Mr. Richard also worked as a financial analyst for the Autorité des Marchés financiers («AMF»). Mr. Richard holds an MBA from Cornell Johnson School of Business and is also a member of the "Barreau du Québec" since 1999. Mr. Richard will be Communications Director for Vanstar.
Pascal Germain Director
Mr. Germain is involved in the cryptocurrency industry and acts as the Managing Founder of an important private mining farm located in Quebec. Mr. Germain has extensive knowledge of this new industry which will help the Corporation with its future strategic business decisions in this area.
Eric Beauchesne Director
Eric is the President and co-founder of Arkys Web System since 2000, Arkys Web System is a company specializing in information technology and communications. Mr. Beauchêsne is a director and shareholder of TMR Communications, a marketing, branding and web marketing firm. He is also a director and shareholder of Skeye Aviation System, a firm specializing in the development of operations management software for small and medium-sized airlines. Eric is a director and shareholder of Géotic, a company specializing in software development for mining exploration and mining companies.
Jonathan Hamel Director
Mr. Hamel has recognized expertise in various emerging markets where he has contributed to several mobile payments and alternative banking projects. A pioneer of the Bitcoin technical community in Canada, he has promoted these technologies in numerous financial and technological events around the world. Mr. Hamel also acts as an Associate Researcher at the Montreal Economic Institute on economic and social issues related to Blockchain and Bitcoin and is also a member of the Advisory Committee on Technological Innovation of the Autorité des Marchés Financiers (AMF).