Summary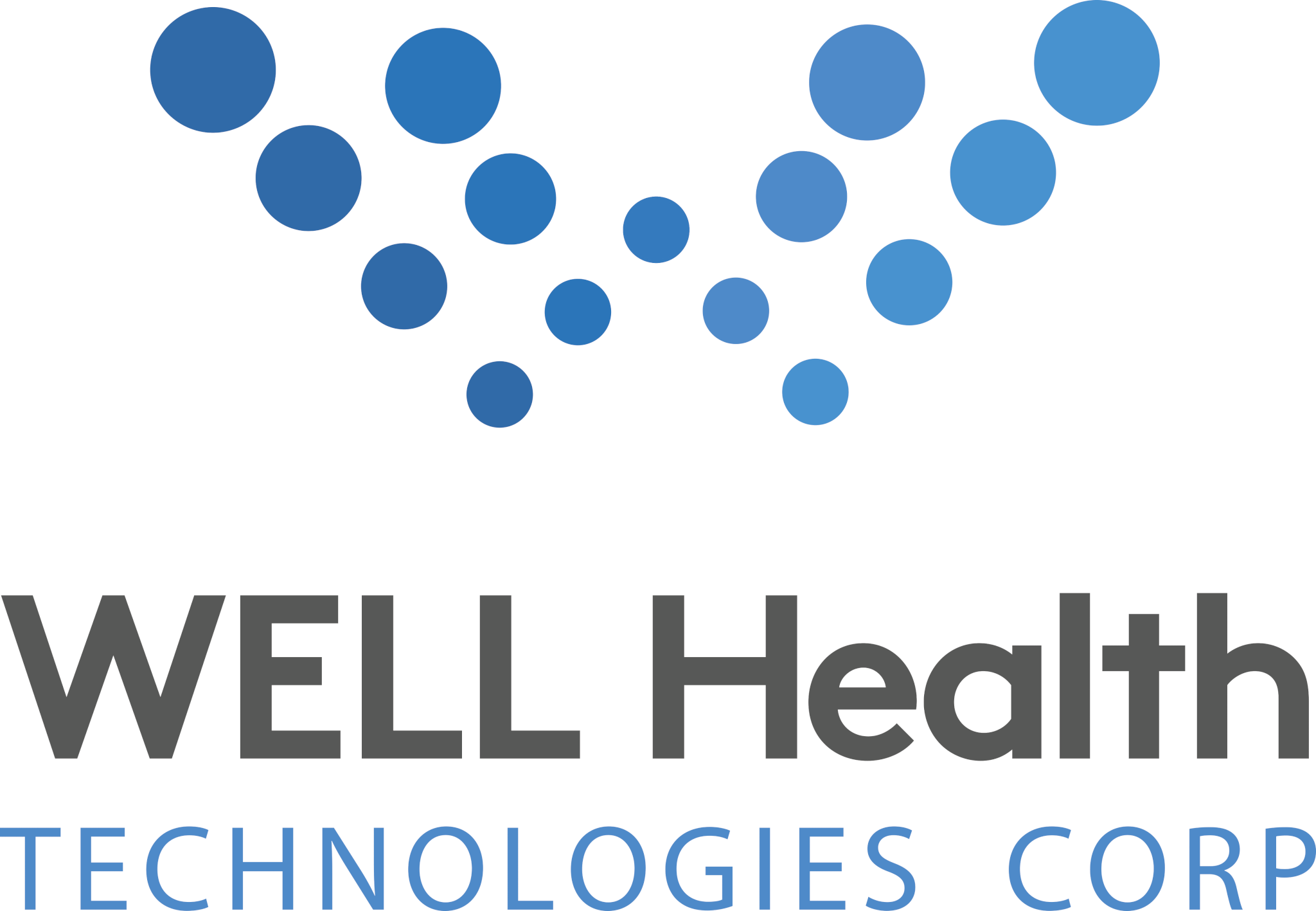 Backed by legendary investor and business magnate Sir Li Ka-shing, WELL (TSXV: WELL) owns and operates Primary Healthcare Facilities in Canada. WELL's overarching objective is to empower primary care doctors to provide the best and most advanced care possible leveraging the latest trends in digital health. WELL physicians serve hundreds of thousands of patient visits per year through its network of clinics. WELL uses a proven deep-value based M&A strategy in order to drive enhanced shareholder value. Target acquisitions are either location based medical clinic practices or digital health software and technology companies. WELL aims to positively impact health outcomes by leveraging technology to empower and support patients and doctors. WELL Health Technologies was recognized as a TSX Venture 50 Company in 2018.
Share Structure
As of February 26, 2019*
Shares outstanding – Basic
               91,025,366
Options
                 5,122,774
LTIP – Restricted Share Units
                 2,762,000
LTIP – Performance Share Units
                     450,000
Warrants
                 4,004,031
Fully Diluted
               99,360,140
*Includes all announced issuances.
Investment Highlights
The Company's publicly disclosed Financials Statements and associated Management Discussion and Analyses are located on www.sedar.com.
Acquisitions:
SleepWorks:  51% Majority Ownership = $1.13M
KAI Innovations:  Total Acquisition price = $10.75M
OSCARprn:  Total Acquisition Price = $876K
NERD:  Total acquisition price = $2.55M
Second 13 clinics:  Total acquisition price = $6.35M
Initial 6 clinics: Total acquisition price = $3.527M
Financings:
August 2019 – $15M – Bought Deal private placement of special warrants
June 2019 – $10.5M – Bought Deal private placement of Convertible Debentures
February 2019 – $2.7M – non-brokered, management and strategic investors.
April 2018 – $7.5M – non-brokered, management and strategic investors.
January 2018 – $4.5M – brokered financing.
Strategy
WELL currently has approximately 180 general practitioners at its 19 locations providing approximately 600,000 patient visits a year.  NERD provides OSCAR EMR (electronic medical record) services to approximately 230 clinics, most of which are located in the province of British Columbia.  Well expect the clinics to generate revenue in excess of $27M on an annual basis.  Insurable services represent approximately 89% of revenue while the balance represents non-insurable services.  Approximately 70% of healthcare revenue is paid to physicians for their services. Annual SaaS revenue to non-WELL clinics is expected to exceed $650Kpa.
The Company's strategy can be summarized as follows:
Acquiring additional scale across both clinical and digital operations.
Establishing best in class shared services to optimize synergies across all operations.
Leveraging technology assets and capabilities to modernize clinical operations to benefit doctors & patients, which in turn drives improved margins.
Offering WELL/NERD customers new digital upgrades that have been proven to drive enhanced efficiencies in WELL's own clinics.
Executing on a disciplined and highly accretive capital allocation program.
In addition, the Company is using its existing assets as foundation to identify and provide allied healthcare services such as woman's health, cosmetic, virtual heath care (telehealth), specialty consultations and dermatology.  Future opportunities include sleep apnea, executive health care, provision of a patient portal (PHR), artificial intelligence (AI) for health care applications and others.
Management Profiles
WELL has a proven Management Team and Board that has the technology expertise to execute on a meaningful technology roadmap with a combined 50+ years of experience in starting, growing, and scaling business concepts, M&A and restructuring/integrations.
Details of the Company's management and Board of Director's can be found online as follows:
https://well.company/management---board.html
Hamed Shahbazi Chairman & CEO
Hamed has 20+ years of experience as a technology focused operator. In 1997, he founded TIO Networks (TSXV:TNC) a kiosk solution provider and transitioned it into a multi-channel payment solution provider, specializing in bill payment and other financial services. In July of 2017, TIO Networks was acquired by PayPal (NASDAQ:PYPL) for CAD$304 million. Over his career, Hamed has gained extensive experience in strategic mergers, acquisitions, and divestitures, both as an operator (eg. TIO) and board member (eg. BBTV, WELL) with more than a dozen successful transactions.
Eva Fong Chief Financial Officer
Eva has 20+ years of experience which includes Fortune 500 public company management, M&A, corporate strategy development, risk and compliance, and finance and business shared services programs. She has held senior leadership positions in various high-tech sectors including PayPal, TIO Networks, SAP, and 360networks where she led business units and built best in class corporate culture. Eva is a Chartered Professional Accountant (CPA, CGA) in Canada and holds a fellowship at the Association of Certified Chartered Accountant (FCCA) in UK. She also holds a Bachelor's Degree in Hospitality Management from Florida International University.
Amir Javidan Chief Operating Officer
Amir has 15+ years of experience in key, technology-driven leadership roles in companies such as Avigilon Corporation, where he served as VP of IT and Customer Service, TIO Networks, where he served as COO, and most recently at PayPal. Amir oversees all aspects of clinic operations including management of clinic managers and staff, facilities, clinic vendors, and clinic shared services operations. He holds a Computer Engineering degree from the University of British Columbia.
Amir Javidan Chief Operating Officer
15+ years experience as a technology and operations executive involved in 2 successful exits
Previously COO at TIO Networks, joining the company in 2014 to help the business scale through an aggressive M&A strategy. Within 3 years, TIO acquired 3 companies, increased revenue from ~$30 million to $100+ million, grew market cap 4x, and was acquired by PayPal for $304 million (July 2017)
Held a variety of key roles at Avigilon (most recently as VP, Customer Service and IT) going from stealth mode startup to public company with a market cap > $1 billion. Focused on operational efficiencies that enabled the business to scale though hyper-growth ($0-$100 million in revenue in 5 years)
Dr. Michael Frankel Chief Medical Officer
Michael is a graduate of the University of the Witwatersrand in Johannesburg, South Africa, completing his internship at Addington Hospital in Durban, South Africa. He came to Canada in 1990, where he initially worked as a general practitioner in Northern Manitoba. He moved to Vancouver in 1991 and worked as a clinical assistant in Pediatric Oncology at BC Children's Hospital. Since 1992, Dr. Frankel has worked as a general practitioner in the Lower Mainland. He owns and operates a portfolio of successful primary healthcare facilities, and he continues to be a practicing physician.
Arjun Kumar Chief Information Officer
Arjun has 10+ years of experience in healthcare administration and technology operations. He co-founded KAI Innovations in 2012 and led the company as Chief Executive Officer. Prior to this, he worked as a cardiac and ultrasound technician for 7+ years, and currently sits on McMaster University's Board of Directors for OSCAR EMR. In 2017, KAI won Canada Health Informatics Association's Award for Innovation and Care Delivery, and in 2015, won Start-Up of the Year from Canadian Business Magazine. He attended the University of Toronto, the University of Waterloo, and Ryerson University for Health, Technology, and Business disciplines.
Chris Ericksen Senior Vice President, Strategic Partnerships & Marketing
Chris has 17+ years of experience in technology with a focus on business development, sales, and marketing. From January 2001, until it was acquired by PayPal (NASDAQ:PYPL) in 2017, he served as TIO Networks Corp's (TSXV:TNC) SVP of business development, as EVP for POS Payments, and finally as chief revenue officer responsible for leading the company's sales and business development teams. Chris has considerable design and marketing experience, even successfully starting and running his own design company, Ericksen Design Group, for 8 years. He also has extensive experience in business management, sales and marketing, and business and product development as a previous member of TIO Networks' core management team.
Brian Levinkind Senior Vice President of Corporate Development
Brian has 20+ years of both public and private experience as a chartered accountant (now CPA). Brian has been involved in the planning, structuring, and implementation of numerous financings, mergers, acquisitions, and corporate reorganizations. He was a former equity partner at Grant Thornton LLP in Canada, specializing in tax and mergers and acquisitions, and he has also held management positions at HSBC and KPMG. Brian has extensive experience as a chief financial officer in the both the healthcare and clean energy sectors.
Sara Bond Senior Vice President of Product Development
Sara has 10+ years of management and product direction experience, both as co-founder and Chief Operating Officer of KAI Innovations. Her experience as a medical office assistant contributed to her expertise in both clinical workflows and relationship management between clinics and technical staff. As a project manager at KAI, she helped to grow the company's profile, and in 2015, KAI received the Business Excellence Award from the Toronto Region Board of Trade and was named Start-Up of the Year from Canadian Business Magazine. Sara graduated from Ryerson University, Durham College, and Fanshawe College for business and healthcare related disciplines.
Makiko Deniz Human Resources & Office Manager
Makiko has 20+ years of work experience in complex and high impact administration for the CEO and administration of payroll and benefit in a public company. She was also a relationship manager in the cruise industry, and she spent nine years at sea with the Royal Caribbean Cruise Line as chief purser and crew relations manager. She served as an executive assistant for Hamed at TIO and worked very closely with the senior executive team on several M&A acquisitions and integration projects. She is an advocate of building corporate culture and led the culture committees both at TIO and Royal Caribbean for 12+ years.