Excerpt from Struthers Report V24 # 5.3 Markets, JAX , REZ, GYA ,SVB, Feb. 21, 2018
RedZone Resources TSXV:REZ Recent Price $0.60
Entry Price $0.23 Opinion – hold, buy
Yesterday RedZone announced that it has located and staked an additional 36 lode claims or 744 acres at or near its Fortner & Boyd Lithium Property. This area increases the Company's total land holding by 18% to 236 lode claims totaling 4,876 acres.
Upon review of the geological mapping and the location of pegmatite dykes on the current holding, many of which contain lithium bearing spodumene, RedZone has identified additional extension areas which appear to contain similar dyke outcrops. This was their previous map so these additional claims will be around these current ones indicated below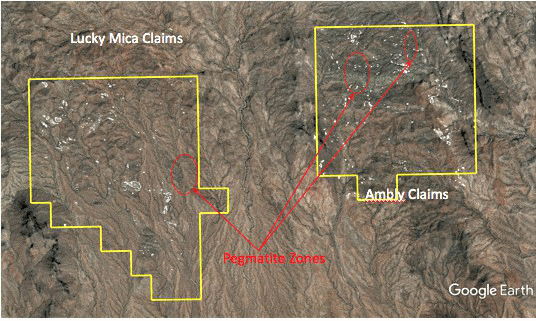 The stock is still very cheap compared to similar lithium stocks and the story here just keeps getting better. Remember lithium has seen very little exploration in the past and what Redzone is finding here could be a large scale lithium district. Contine to hold, add or initiate positions in the stock.
(c) Copyright 2018, Struther's Resource Stock Report
All forecasts and recommendations are based on opinion. Markets change direction with consensus beliefs, which may change at any time and without notice. The author/publisher of this publication has taken every precaution to provide the most accurate information possible. The information & data were obtained from sources believed to be reliable, but because the information & data source are beyond the author's control, no representation or guarantee is made that it is complete or accurate. The reader accepts information on the condition that errors or omissions shall not be made the basis for any claim, demand or cause for action. Because of the ever-changing nature of information & statistics the author/publisher strongly encourages the reader to communicate directly with the company and/or with their personal investment adviser to obtain up to date information. Past results are not necessarily indicative of future results. Any statements non-factual in nature constitute only current opinions, which are subject to change. The author/publisher may or may not have a position in the securities and/or options relating thereto, & may make purchases and/or sales of these securities relating thereto from time to time in the open market or otherwise. Neither the information, nor opinions expressed, shall be construed as a solicitation to buy or sell any stock, futures or options contract mentioned herein. The author/publisher of this letter is not a qualified financial adviser & is not acting as such in this publication.
Source: Struther's Resource Stock Report