In 2000, when the Nasdaq crashed, more than 99% of internet stocks went bankrupt, and the internet technology concept was judged as a flash in the pan. At that time, the major internet giants thriving today struggled to stay afloat amidst a hostile and disillusioned market.
Nearly 20 years later, the Nasdaq is still the most influential stock exchange for emerging technologies. Internet companies have not only found successful business models but have also become a part of people's daily lives and forever changed society.
As stated by the exchange itself, the Nasdaq was built on a foundation of innovation and market disruption. Today, the Nasdaq is once again preparing to innovate its platform, preparing to adopt new technologies like machine intelligence and blockchain.  The new system under testing in Sweden now will use blockchain technology to issue shares. If the test is successful and approved, Nasdaq will likely be the world's first stock exchange to use blockchain technology to issue shares. Coupled with the announcement of its Bitcoin Liquid Index (BLX) and the Ethereum Liquid Index (ELX) on February 25th, the Nasdaq is ushering in a new era of credibility for the blockchain and cryptocurrency industry.
All of this is not surprising news for Bloxsar Tech Ventures Inc., a Canadian blockchain incubator that is committed to shaping the future of the blockchain economy. Bloxsar is a Canadian technology company with offices in Toronto, Ontario, Vancouver, British Columbia and London, UK.  As a blockchain incubator, the company has the potential to bring forth the latest blockchain technology applications for the global economy, and to build a healthy and prosperous blockchain business ecosystem.
What is the Opportunity in Blockchain?
Most investors have heard about blockchain because of the recent Bitcoin surge. With a boom of investor interest in 2018 and the high price volatility of bitcoins and other cryptocurrencies; cryptocurrency prices have experienced a sharp decline after the surge. Blockchain technology, although not necessarily related to cryptocurrencies, have also faced a downturn in interest from the public.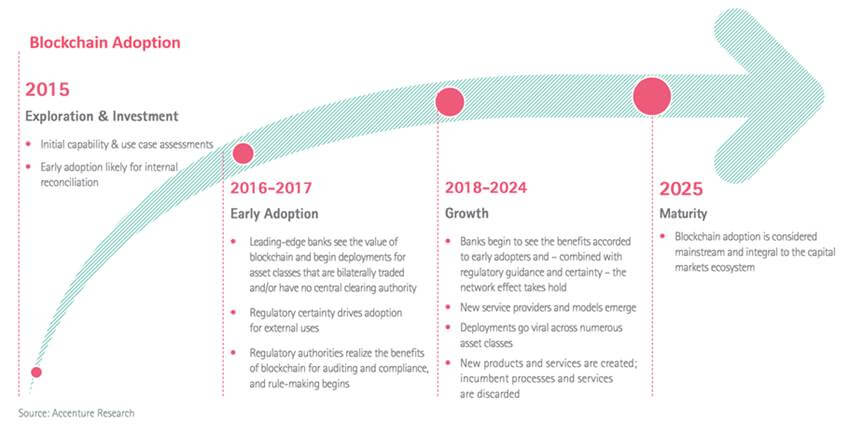 Regardless of the cooling of public opinion, government, and business giants including FEDEX, Facebook and J.P. Morgan  are embracing blockchain. With the emergence of the open source platforms of blockchain technology and the efficient linkage of upstream and downstream industry chains, the deployment of blockchain technology applications have accelerated significantly in recent months.
It is in this environment that Bloxsar has grown to become a generator of new blockchain companies and applications.
Great Commercial Application Space in the Future
After the emergence of a new technology, there is a host of questions regarding what practical problems can be solved by the technology and if the technology can achieve commercial value. The wave of blockchain technology companies that have come and gone in recent months have all needed to answer these questions. In fact, after the initial excitement and decline of ICOs, tangible applications for blockchain have quietly taken hold in various industries.
The reason why a revolutionary technology is great is not simply because of its influence in the realm of science, but its transcendence into people's daily lives.  The Internet has achieved this and blockchain will achieve the same in time.
Blockchain technology can be applied to government management, waste recycling, identification of medical data, supply chain management, mobile payments, gaming and much more.  Central banks strongly support the research and application of blockchain technology, and the US Treasury Department has also advocated testing of more blockchain pilot projects.
Blockchain technology plays a pivotal role in distributed commerce. In a distributed business service, the blockchain acts as a mediator of value flow, consensus, and overall coordination among different business organizations. Blockchain has the advantages of low cost, non-human intervention, fairness and efficiency compared to traditional mediation and overall coordination by a centralized organization. Therefore; the future application space is enormous.
Still in its Early Stages of Ecological Formation
Market research firm Gartner has proposed the "The Hype Cycle for Emerging Technologies", which describes five stages as the adoption model for new technologies from innovation to maturity. The history of the Internet is an example of this theory. The Internet was born in the 1970s (stage 1) at the beginning of the 21st century.  The Internet created expectations of wealth and experienced a bubble (stage 2). The bubble popped and recovered (stage 3 and 4), and ultimately, the Internet pervades society and has widespread applicability (stage 5).
Blockchain technology appears to be in the third and fourth stages and there is still some time before large-scale commercial applications take off .This means that the competition pattern has not yet appeared. No country or technology giants have absolute advantages. It is the best time for entrepreneurs to enter the period when future industry giants are born.  Based on this principal, Bloxsar has now chosen to become a full-cycle incubator for blockchain technology entrepreneurs to help them move from start-up to commercialization.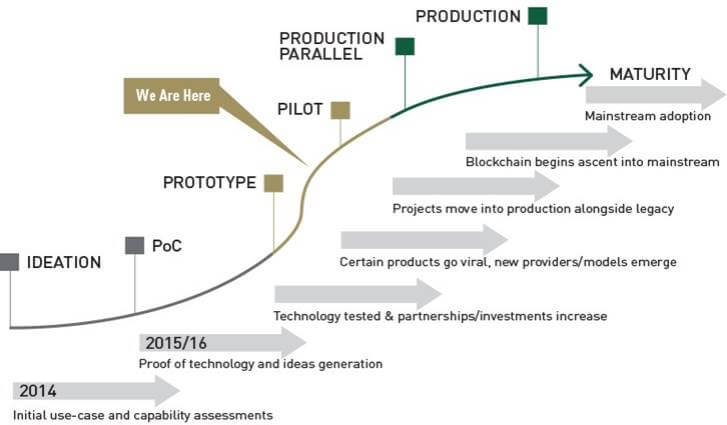 Incubating Companies to Build a Technological Business Ecosystem
As an enterprise-operated incubator company, Bloxsar's profit model is very simple.  The success of its investment in blockchain companies or projects means that Bloxsar's financial success comes from holding a startup or project.
Bloxsar adopts a full-cycle, full-service model that maximizes the support of its startups for successful growth. The company uses the "incubation-incubator" model to screen and develop early projects that increase the company's investment success rate. "Value" is the main indicator of Bloxsar's screening project.
Bloxsar is currently incubating one majority owned company named BlocksEDU Learning Corp (BlocksEdu) and is anticipating the launch of a second majority owned company to produce events, gatherings, conferences and media focused on blockchain.
BlocksEdu is a commercial stage business and has created a library of 290+ blockchain educational videos in both Mandarin and English. These videos are being currently marketed in China. These videos are the basis of a blockchain certificate program to be created with qualified teachers for selected educational institutions worldwide.
BlocksEdu has partnered with a well-respected education courseware distributor with a massive database of potential students based in China. They have been given the exclusive right to supply the Education Department of the Ministry of Commerce of China with the BlocksEdu blockchain courseware.
BlocksEdu has also partnered with the Okanagan College to support a 112- hour Blockchain Certificate Program. The program was launched in January 2019 and enrollment has begun for the spring 2019 semester.  (www.kelownacapnews.com/news/okanagan-college-to-offer-emerging-technology-program/ ).In addition to distribution in China and Canada, expansion into the United States, Mexico, South Africa and Malta (EU) is planned through future distribution agreements.  Bloxsar forecasts that revenue from the sale of the courseware to China and Okanagan College is to be recorded in the second quarter of 2019 and is calculated on a per student basis.
Bloxsar also has minority interests in two additional projects: BRIC Innovation Ltd. (BRIC) and Arctic Networks Inc. (Arctic). Bloxsar is also in the preliminary planning and negotiation stages to acquire minority interests in Blockchain companies focused on E-learning, Fintech and Notary services.
BRIC is located at the University of British Columbia's South Research campus, generating revenue by providing facilities and offices, consulting services, funding and administrative support for early entrepreneurs. Revenue is expected to be recorded in the second quarter of 2019. BRIC was a strategic investment for Bloxsar as it provides Bloxsar a 150 person conference facility to support BlocksEdu education events and seminars in addition to providing Bloxsar investments and startups access to mentors and office space. BRIC is also an important channel to potential Bloxsar investments.
Arctic is a very exciting development stage company that has developed and continues to test ground breaking blockchain technology. The Arctic platform adds a security and privacy layer to the internet which will revolutionize the current HTTPS security. Bloxsar forecasts that revenue will be generated through B2B licensing and partnerships with a target market of the largest global internet communication companies.
It can be seen that Bloxsar's investments belong to the infrastructure construction of the blockchain industry, and their revenue and profit models are easily understood. Bloxsar's initial projects are in historically proven markets: Education, Real Estate and Security.
Bloxsar will be holding regular blockchain educational and investor events at their UBC location. The first event will be held in April of 2019. To be certain you are on the VIP guest list to attend, please register here https://www.bloxsar.com/events.html
Disclaimer: NAI is being compensated for this article. Materials contained in this article is for information purposes only and is not intended to constitute an offering of securities in any jurisdiction. Nothing on this article should be construed as an offer, solicitation or recommendation to buy or sell products or securities.