Summary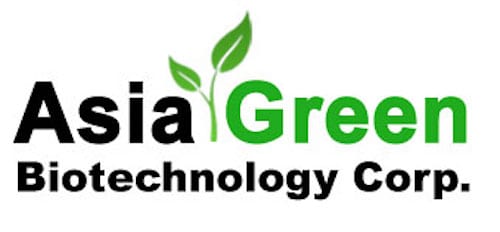 Asia Green Biotechnology Corp. is an early-stage, international agri-technology company centred on the planting, growing, and harvesting of new and valuable strains of hemp and related crops in commercial quantities in Asia. Our licensed technology secures our exposure to and capacities in the hemp and related sectors through horticultural, scientific, genetic, genomic and related advances.
We intend to apply our licensed technology to make use of the positive climatic conditions in strategic Asian regions.  In addition, the political and social acceptance of hemp and associated products, existing agricultural and processing infrastructure, and potential applications of certain by-products in the realms of traditional and advanced medicine will create a strong and positive market for our licensed genetics and hybridization processes.
Share Structure
As of May 15, 2020
Shares Issued
36,247,100
Warrants
403,760
Options
2,690,003
Fully Diluted
39,340,863
Investment Highlights
Founded as Asia Cannabis Corp in May 2018
Signed licensing agreement with Inplanta Biotechnology Inc., for lucrative hemp/ cannabis strains and related crops in 2018
Filed prospectus in August 2018
Publicly listed with IPO as CSE:ASIA in January 2019
Enters Agreement with Swysh Inc. to obtain Technology License for Medical Products for Asia Region in March 2020
Confirms Patent Application Filed by Swysh Inc. in relation to Anti-Viral Treatments in March 2020
Changed name to Asia Green Biotechnology Corp in March 2020
Status Update on Continuing Covid-19 Research Activity With License Partners in May 2020
Projects
Hemp Backgrounder
Food Fuel Fibre Foundation + Pharma
Hemp can be selectively bred for a range of consumer and industrial uses and has been grown in Asia for centuries. The fibres from the stalk can be used to make rope, clothes and other textiles, and as an organic construction material. The seeds are also edible and provide the source ingredients for a wide variety of medicinal products.  Hemp is relatively easy to grow outdoors in a range of climates. Hemp stalks can grow up to four meters tall, without needing pesticides, and are generally much skinnier and taller than marijuana plants. The biological robustness of hemp plants coupled with the broad range of applications developed for its products and by-products over years of use in the Asia make it a viable choice as a focus for new business development, particularly in an environment where the negative stigmas associated with hemp have been or are being eliminated.
Technology
Scientific Breeding for Optimal Varieties, Yields, and Uses
Asia Green Biotechnology Corp. has secured licensing agreements with InPlanta Biotechnology Inc. and Swysh Inc., both being Alberta-based bio-science research and development companies controlled by Dr. Igor Kovalchuk.  Dr. Kovalchuk's teams of professionals have a primary focus on the advanced understanding of the Cannabis sativa plant family.  The core approach of the business is centered on the planting, growth and harvesting of new and valuable strains of hemp and related crops in commercial quantities under the terms of a license agreement with InPlanta.
Bio-Fuels
Develop and produce strains to produce large biomass to process in commercially sound volumes
Asia Green Biotechnology Corp. is developing relationships with Canadian and Asian partner companies for the purpose of accessing of facilitating the joint development of the specialized technology for the production of synthetic fuel from hemp biomass.  It is the aim of Asia Green to develop and produce strains of hemp capable of producing large biomass which will be well-suited to the creation of synthetic fuels.  Working with these partners will ensure that the best traits are identified and maximized, and thereafter that viable partners will be in place to accept and process the large, commercially sound volumes of such product which can be produced in a number of the regions in which Asia Green is or will be active.
COVID-19 Research
Anti-viral and preventative health-care applications may have positive impacts on the COVID-19 virus.
Asia Green has entered an agreement with Swysh Inc., an Alberta company focused on the conduct of specific cannabinoid-based research and development activities and that owns proprietary technology and related intellectual property aimed at providing the basis for creation of topical and systemic treatments for a variety of external and internal conditions and ailments, including a number of anti-viral and preventative health-care applications. This agreement grants a license to Asia Green to deploy the technology for the purpose of completing further research, development, testing and additional validation and establishment of practical applications with a view to commercialization of the technology in the greater region of Asia. Of critical relevance at this time is specific research being undertaken by Swysh and Asia Green relative to an anti-viral treatment which may have positive impacts on the COVID-19 viral disease.
Management Profiles
David Pinkman President, Chief Executive Officer, and Director
David Pinkman BA, LLB, founded, operated and was Executive Chairman of Jupiter Power International Inc., an independent power production company which successfully built and operated a number of power plants in Cambodia and SE Asia. Mr. Pinkman has participated in the management and ownership of a number of companies in his recent career. Previously, he was the Interim Chief Executive Officer of Synstream Energy Corp., a corporation specializing in the application of gas-to-liquids technology in the oil industry, from August 21, 2017 until December 29, 2017 and served as a director from May 2007 until present. He is the Chief Financial Officer and a director of International SoftRock Oil Company Limited, an oil and gas E&P firm which had operations in West Africa, and has been so since February 2015. He is and has been a director of Builders Capital Mortgage Corp. since March 28, 2013. Mr. Pinkman has served on the boards of a variety of local volunteer organizations, and continues to serve as a director and Treasurer of Wild Rose Motocross Association and is a director of the Canadian Motorcycle Association.
Johannes J. Kingma Director
Mr. Kingma is a self-employed businessman who has served as CEO of a private investment company (2006 – ) and President, Chairman, and a Director of Synstream Energy Corp. (TSX-V:SHM), since 2007. He has also served as director and officer of a number of private and public companies (2004 – 2010). Prior to this, Mr. Kingma was a Partner, sales manager and investment advisor with IPO Capital Corp., and was similarly a registered investment advisor with Canadian Western Capital Limited.
Vincent E. Ghazar Chief Financial Officer and Director
Mr. Ghazar has served CFO and Director of Asia Cannabis Corp. from early 2018. Mr. Ghazar has a professional accounting practice (2014 – ), is the Controller of Synstream Energy Corp. (2013 – ), and CFO and VP Finance of Standard Exploration Ltd., both public companies. He has advance training in compliance, regulatory and governance practices and has extensive IFRS and GAAP experience.
Igor Kovalchuk, PhD Director
Mr. Kovalchuk has served as an Asia Cannabis Corp. Director since mid 2018. He is the co-founder of Inplanta Biotechnolgy Inc. (est. 2015), founder of genomics company Plantbiosis (est. 2010), and a (co)founder of Pathway Rx (est. 2016). Presently, he is a Professor and the Board of Governors Research Chair at the University of Lethbridge, Department of Biological Sciences (2001 – ) and Board of Governors' Research Chair in Plant Biotechnology (2007 – ). He is also executive member and Scientific Leader of Alberta Epigenetics Network (2014 – ), and a Director of Next Generation Sequencing Facility (2010 – ).
Dr. Darryl Hudson, PhD Director
Dr. Hudson is a principal of InPlanta Biotechnology Inc. and received a PhD in Molecular Biology and Genetics from the University of Guelph in 2010. He has published research in diverse fields including plant biology, genetics, epigenetics, DNA repair mechanisms, and carcinogenesis. He primarily works as a consultant and researcher helping producers in many countries to optimize genetics, cultivation processes and quality assurance protocols in the Cannabis industry. In addition to participating in a recently published Cannabis genome sequencing project, Dr. Hudson been breeding specialized new varieties of Cannabis for both the medical marijuana and agricultural hemp market and has been active in studying effects of Cannabis in treating post traumatic stress disorder specifically working with military veterans to develop both medications and protocols. Dr. Hudson has spoken before the US Senate Committee on Veteran Affairs prior to the institution of ground- breaking legislation that allowed US veterans to receive recommendations for medical marijuana treatment in states with legal Cannabis programs. He has acted as a judge at Cannabis competitions and continues to speak at many international conferences.