Summary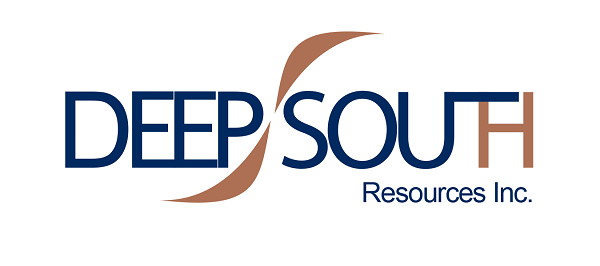 Deep-South Resources is a TSX Venture listed mineral exploration company based in Vancouver. The Company is actively involved in the acquisition, exploration and development of major mineral properties in Africa.
Share Structure
As of March 02, 2018
Shares Issued
54,052,357

Warrants

2,365,843 @ $0.34, August -September 2018
937,000 @ $0.30, May 2020
961,000 @ $0.30, November-December 2020

Options
1,050,000
Fully Diluted
58,317,250
Investment Highlights
Highly experienced management with African background
Highly experienced exploration team with African focus
Strong Strategic Shareholder: Teck Resources holds 35% of DSM & DSM holds 100% of Haib Copper
Projects
Projects:
Haib Copper Project – world class copper resource, Namibia
Oldest copper porphyry in Africa
A 43-101 indicated resource of 3.12 billion lbs Cu and inferred of 2.19 billion pounds Cu,
Preliminary Economic Assessment (PEA) results: NPV pre-tax: US $ 716 M (CA $ 895M); IRR pre-tax: 30.4; discount rate: 7.5%;
Pre-feasibility (PFS) to start in Q2 2018;
Recent discovery of 5 satellites to the main deposit, to be drilled in 2018 and 2019;
Potential to substantially increase tonnage;
Excellent mining jurisdiction – Namibia;
INAL Project – Major gold and Lithium potential, Mauritania (Acquisition pending closing)
St-John Project – Major gold potential, Liberia (Acquisition pending closing)
Management Profiles
John H. Akwenye Chairman
Mr. Akwenye is a Namibian retired lawyer with over 30 years of experience in business development in Namibia. From 1994 to 2008, he was Chairman of Guinas Investents (PTY) Ltd a Swapo owned investment company. He has been chairman of the Namibian Airports Company from 2001 to 2004. He is Director of Corporations such as Areva Resources Namibia and PE Minerals and he his currently Chairman of Deep-South Mining Company (PTY) Ltd and Director of Haib Minerals (PTY) Ltd.
Pierre Léveillé President & CEO
Mr. Léveillé has over 28 years of experience in the International financial sector and 20 years of experience in the mining exploration industry. Mr. Léveillé has started is career as a Stock Broker and Corporate Finance specialist with Lévesque, Beaubien, Geofrion and National Bank Financial. From the mid 1990's to today, he has been Executive and Director of several exploration companies active in Africa. He has financed and managed exploration projects in Namibia since 1996 and has realized over US$ 70 million in transactions and financing for Namibian and African mining exploration projects. He is currently Executive Director of Deep-South Mining Company (PTY) Ltd. and Director of Haib Minerals (PTY) Ltd.
Vivian Stuart-Williams Vice-President Exploration
Mr. Stuart-Williams is a geologist with 46 years of experience in the mining and exploration industry, principally in the southern African region. He holds a M.Sc degree in uranium and he has been involved in base metals, gold, coal, and industrial mineral projects. Mr. Stuart-Williams has a worldwide exposure (including Liberia, Philippines, Afghanistan, Canada, Uzbekistan, Australia, Uganda, Mauritania and all of the Southern African countries). He has been involved with the Haib project from the mid-1990s as exploration Manager and subsequently as a Technical Director (geology) for Deep South Mining who held the Mineral Rights over the Haib Project during the recent exploration by Teck Namibia.
Clifford Fitzhenry Exploration Manager
Mr. Fitzhenry is a Geologist with 14 years experience across a number of African countries. He began his career with Anglo Platinum on the Bushveld Complex and has subsequently worked on mining and exploration projects throughout Africa including Central African Republic, Liberia, Madagascar, South Africa, Mozambique and Malawi. Mr. Fitzhenry holds MSc and BSc Honours (cum laude) degrees from the University of KwaZulu Natal (South Africa) and is a Registered Professional Natural Scientist in South Africa.
Paul Lemmon Consultant Geologist, Gold Projects
Mr. Lemmon is a professional Geologist with experience in numerous jurisdictions worldwide. Most notably, he has over 25 years experience in several African countries such as Liberia, Zambia and many others. In addition to having held directorship positions at a number of public and private companies, Mr. Lemmon is Chief Geologist and Director of Copperzone Resources Ltd, a successful project generator and exploration company focused in Zambia. Mr. Lemmon is a Professional Graduate of United Kingdom's Institute of Materials, a Fellow of the Geological Society of London, and a Registered Professional Natural Scientist in South Africa.
Tim Fernback Vice-President, Director
Tim Fernback has over 20 years of experience in the venture capital and investment banking industries. He is currently the Regional Director for the CFO Centre Limited, responsible for all operations in Western Canada. The CFO Centre is the world's leading provider of part-time Chief Financial Officers for mid-tier businesses. The company has over 350 active CFOs worldwide.
Mr. Fernback holds an Honours B.Sc. from McMaster University, and holds a MBA with a concentration in Finance from the University of British Columbia. Mr. Fernback holds a Certified Professional Accounting (CPA) designation in Canada and is currently director of several publicly traded companies in Canada.
Ryan Cheung CFO, Director
Ryan Cheung is the founder and managing partner of MCPA Services Inc., a chartered professional accountant firm. Ryan's role is focused on business development, and managing all aspects of the Firm and professional services delivery. He started in 2002 at a boutique CA firm eventually moving on to a mid-sized CA firm and successfully wrote the Uniform Final Examination in September 2007.
Ryan works closely with high net worth and self-employed individuals, private companies and public companies (TSX Venture listed) in various industries including general professional services, real estate, mining, and technology. He is currently director of several publicly traded companies in Canada.